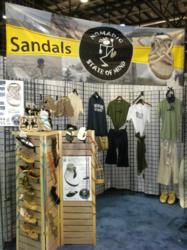 Fayetteville, NC (PRWEB) August 21, 2012
On September 6, 2012 Surf Expo will take over the Orlando Convention Center once again and vendor veteran, Nomadic State of Mind, will be there once again to show off their goods to an engaged audience.
The grassroots sandal company may not occupy the largest space there, but their handmade sandals and organic apparel always stand out as one of the more unique items to be found, drawing an international crowd of customers. For the better part of a decade Nomadic State of Mind has been attending Surf Expo, but typically for their January event. Attending the September event allows for expanded production with companies pre-booking and for pre-book deals! Company owner, Chris Anderson, is looking forward to seeing some new faces and new products and continuing to watch the industry grow.
Long time customers of Nomadic State of Mind are already speculating on what news might come from the company at the expo this year. Past revelations have included expanded sandal lines, styles and color combinations as well as totally new products such as the nomadic rash guards they featured last year. This year should prove no different as Anderson promises some exciting projects are in development.
Stores and buyers interested in scheduling an appointment with the company during the show can contact Shea McNally at 877-666-2376.