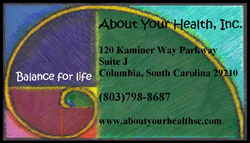 Columbia, SC (PRWEB) August 21, 2012
About Your Health Inc., a leading provider of natural health care education and holistic treatment, recently announced that they are now providing Mild Hyperbaric Oxygen Therapy. By offering this new service, About Your Health will be able to help clients increase their blood oxygen level, which has significant health benefits for a wide range of acute, traumatic, and chronic diseases and conditions.<br><br>Increasing oxygen has been found to increase energy and decrease stress. Users have also discovered that Mild Hyperbaric Oxygen Therapy relieves aching swollen joints and muscles, as well as being an effective treatment for digestive disorders and headaches. It is beneficial for increasing blood volume, improving sleep, improving detoxification, and improving concentration and cognitive abilities. <br><br>Mild Hyperbaric Oxygen Therapy is also a supplemental therapy for the standard treatment procedures for numerous chronic illnesses, including Parkinson's disease, Alzheimer's, Multiple Sclerosis, Fibromyalgia, Autism, Cerebral Palsy and many others. Additionally, professional athletes from the NFL, NBA and other sports have added Mild Hyperbaric Oxygen Therapy as a regular part of their training strategy to improve endurance and speed recovery after an injury. <br><br>The Mild Hyperbaric Oxygen Therapy chamber at About Your Health is a large tent chamber that allows ample room for clients to rest and relax. Users can listen to music, read or nap under a flow of air while absorbing the beneficial oxygen. Mild Hyperbaric Oxygen Therapy is completely safe. Filtered ambient air is used so that there is no risk of oxygen toxicity. For more information about Mild Hyperbaric Oxygen Therapy and how it can be used to treat a specific health condition, contact About Your Health, Inc. or visit their website.
<br> About the company: <br>
About Your Health is a business located in Columbia, South Carolina. Their main focus is health education, but they offer many health enhancing services to the public. Their core belief is the same as an age old proverb "No time for your health today, no health for your time tomorrow". They encourage everyone to take what is rightfully theirs (good health) and take it to the limit. For more information visit their website at http://www.aboutyourhealthsc.com.