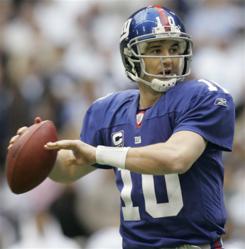 We have no illusions of the improvement that needs to be made, and I am talking about from the top of our team to the bottom
Pittsburgh, PA (PRWEB) August 17, 2012
On Friday, April 10th, the New York Giants tickets holders saw the Giants play their very first preseason opener by squaring off against the Jacksonville Jaguars. The mighty Super Bowl Champions took a fall in the game that left them 1 point behind the Jaguars for 32-31 loss.
The New York Giants actually had a scary good lead in the late second half of the game at 24-7, but they totally threw any chance of winning out the window late in the game. Coach Tom Coughlin was less than thrilled with the team he's led to two titles.
In a statement from Coughlin about the game, he was quoted as saying, "We have no illusions of the improvement that needs to be made, and I am talking about from the top of our team to the bottom."
Still, Giants fans are showing their gleeful optimism by getting their hands on New York Giants tickets. Even if the Giants did lose their grip on what seemed like a sure game, there was still plenty to be positive about for a game that was only the preseason opener.
Many Giants fans were pleased to see a superb start to what is sure to be a sparkling NFL career for running back David Wilson. The 32nd overall and first round Giants pick proved to any doubters he's Giants running back material with seven carries for 43 yards. Loyal Giants fans are stocking up on New York Giants tickets to see this rising star outshine other great Giants running backs D.J. Ware and Andre Brown who together totaled 55 yards and 12 carries in Friday's game.
Martellus Bennett, formerly a Dallas Cowboy, showed off what he can accomplish for a team lacking in the tight end department by making great catches, including a touchdown pass. Bennett isn't the only one showing great promise to fans, who are eating up all the reasons they need to get New York Giants tickets.
Former LSU wide receiver Rueben Randle put a notch in his belt towards showing the Giants that he's everything they hoped for. Already considered a top receiver for his class, this second round Giants draft pick snagged a handsome touchdown pass late in the fourth quarter.
Headline Tickets Now is one of the most popular secondary ticket websites on the Internet. They have affordable sports, theater, and concert tickets across the United States and Canada, all without service fees. Headline Tickets Now is an accredited business with the Better Business Bureau (BBB) of Western Pennsylvania.
Please use Discount Code "Champs" for 2 Percent off the already lowest out the door prices on all NFL Tickets. Only at Headline Tickets Now.