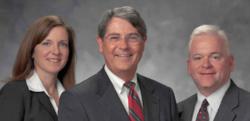 COLUMBIA, SC (PRWEB) August 18, 2012
DePuy Orthopedics a subsidiary of Johnsons and Johnson, voluntarily recalled the ASR Hip Resurfacing System and ASR XL Acetabular System after numerous reports of the product's high failure rate in 2010. The dedicated South Carolina lawyers of McWhirter, Bellinger & Associates P.A. are now offering free case evaluations to help victims get the compensation they deserve.
The DePuy recall resulted as one of the largest medical device recalls in history, affecting roughly 93,000 worldwide. The faulty devices were sold between 2003 and 2009. The recall was caused by the metal-on-metal bearing which resulted in device failure and the possible absorption of metal particles into the bloodstream and surrounding tissue resulting in potential tissue damage.
"Many people do not know what questions to ask, and what to do following a device recall, they need to talk to someone that can guide them through the process" said H. Patterson McWhirter, founding member of McWhirter, Bellinger & Associates, P.A. "DePuy had a responsibility to make sure their devices were safe and they failed to live up to that responsibility. Our goal is to fight for the victims of their alleged negligence."
McWhirter added that anyone who has had hip replacement surgery contact a physician and a law firm that specializes in defective products. Deadlines for filing claims against DePuy are coming up and it is important to take legal action before it is too late.
For over 30 years, McWhirter, Bellinger & Associates P.A. has specialized in defective products cases. They have offices throughout South Carolina including Columbia, Lexington, Orangeburg, Sumter, Camden, Aiken, and Newberry.
About McWhirter, Bellinger & Associates, P.A.
The Law Firm of McWhirter, Bellinger & Associates P.A. has more than 30 years legal experience. They have helped injury victims in South Carolina with all forms of personal injury such as defective products, auto accidents, medical malpractice, workers' compensation and wrongful death. They serve the state of South Carolina, with offices in Columbia, Lexington, Orangeburg, Sumter, Camden, Aiken and Newberry, SC. For more information on The Law Firm of McWhirter, Bellinger & Associates P.A., visit their hip replacement website: http://www.strykerhipreplacement.com and main website: http://www.mcwhirterlaw.com
Attribution:
http://www.fda.gov/MedicalDevices/ProductsandMedicalProcedures/ImplantsandProsthetics/MetalonMetalHipImplants/ucm241770.htm
http://www.depuy.com/asr-hip-replacement-recall