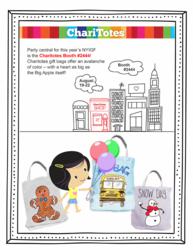 Kids are kids no matter their circumstance, including kids who are fighting cancer. They crave color and fun and excitement. That's what we've provided from the start."
New York, NY (PRWEB) August 19, 2012
Wunderkind teen-trepreneur Taylor Greenberg Goldy knows how to throw an awesome party. The fact that her company, ChariTotes, is celebrating its first anniversary means this particular party is extra special. "Last year's NY International Gift Fair was our coming-out party," said Greenberg Goldy. "This August, we're celebrating our first anniversary with an amazing presentation."
Excitement is par for the course at Greenberg Goldy's company. ChariTotes makes stylish and fun craft kits that have quickly become a hit as activities at kid's holiday and birthday parties as well as favors for events like Bar and Bat Mitzvahs and Confirmations. As per Greenberg Goldy's mission, ChariTotes donates 10% of its sales to the Pediatric Cancer Foundation (PCF), a non-profit charity that funds research and equipment. (To find out more about PCF, you can visit http://www.pcfweb.org.).
So what do amazing parties and colorful craft kits have to do with pediatric cancer you might ask? "Our connection with the Pediatric Cancer Foundation runs deep and inspires everything we do", says Greenberg Goldy. "Kids are kids no matter their circumstance, including kids who are fighting cancer. They crave color and fun and excitement. That's what we've provided from the start."
That start was one year ago, and what a year it has been. Even in the midst of the arduous process of applying to colleges, Greenberg Goldy found time to launch ChariTotes' online store at http://shop.charitotes.com/. "If we make it easy and fun for people to use ChariTotes products and support PCF, the word will spread, the fun will spread, awareness of the charity will spread, and we're all moving closer to a cure. It's the ultimate win/win," said Greenberg Goldy.
The website features the ChariTotes Design-a-Bag Kit and the ChariTotes Design-a-Bag Party Kit. The ChariTotes Design-a-Bag Kit comes with a plain white canvas bag, stickers, stencils, a sketchbook, crayons, and fabric markers that children can use to design their own tote bags. Design-a-Bag Kits are available online for $19.99. Design-a-Bag Party Kits are a 12-pack kit of Design-a-Bags available for the discounted price of $199.
For more information about ChariTotes products, please visit http://shop.charitotes.com/. Retailers and media can stop by and preview ChariTote's collection at Booth # 2444 at the 2012 New York International Gift Fair. More information about the 2012 New York International Gift fair can be obtained by visiting http://www.nyigf.com.