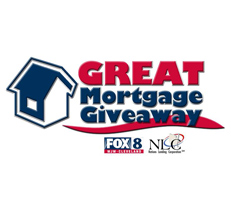 "We will make the mortgage payments for an entire year for a family who suffered a recent hardship or medical condition which is causing them to struggle to keep a roof over their family's head." - Jeremy E. Sopko (C.E.O./President)
Cleveland, Ohio (PRWEB) August 20, 2012
WJW Television FOX 8 and Nations Lending Corporation (NLC) partnered to launch the "Great Mortgage Give-Away". The Mortgage Assistance Contest began on August 15, 2012 and is scheduled to end on Friday, September 14, 2012.
Nations Lending Corporation, a full service mortgage company located in Independence, Ohio is reaching out to the Cleveland and Akron communities and the families that own homes in these areas. WJW, Channel 8, is a Fox-affiliated news and weather television station that broadcasts from Cleveland, Ohio. William L. Osborne Jr. (C.F.O), Jeremy E. Sopko (C.E.O./President) and Mike Bankowski (Senior Mortgage Banker) of Nations Lending Corporation worked diligently with WJW Television FOX 8 to develop the Mortgage Assistance Contest.
The national residential mortgage lender and retail mortgage banking company, founded in 2003, has partnered with Fox 8 to find a mortgagor who will benefit tremendously from financial relief, in the form of a full year of mortgage payments. Cleveland and Akron area homeowners have been invited to enter the Great Mortgage Give-Away contest on the WJW Television FOX 8 web site at http://fox8.com/category/contests/.
The outreach program was implemented by Nations Lending Corporation as a way for the growing company to give back to their local communities. Jeremy Sopko explained the reason why the Great Mortgage Give-Away contest was created, "We want residents of Cleveland and Akron to know that we care about those in need. We will make the mortgage payments for an entire year for a family who suffered a recent hardship or medical condition which is causing them to struggle to keep a roof over their family's head."
The mortgage company specializes in funding conventional, ARM, 30 Year Fixed, 15 Year Fixed, VA, HARP, FHA, IRRRL, FNMA, FHLMC and Streamline refinance mortgage loans for homeowners and borrowers in 42 states. The business is an approved HUD Direct Endorsed Lender (U.S. Dept. of Housing & Urban Development Mortgagee-FHA Lender ID # 23773-0000-0, 23773-00017) and an Automatic VA Lender (VA Lender ID: 569997-00-00). In 2012, The Cleveland Plain Dealer, one of America's leading regional newspapers, rated the financial institution as one of the best places to work in Northeast Ohio.
NLC is reaching out to a homeowner within the Fox 8 viewing area in order to ease the financial burden in their time of need. Contestants should submit a brief story on why they, or someone they know, is worthy of receiving mortgage payments for a year from Nations Lending Corporation. Contestants in the Great Mortgage Give-Away must be homeowners who are current on their existing mortgage loan. One grand prize will be awarded, consisting of the winner's current regular monthly mortgage payment, including monthly escrows for taxes and insurance, multiplied by 12, not to exceed $18,000.00.
For more information about the Great Mortgage Give-Away contest sponsored by Nations Lending Corporation, visit https://www.nlcmortgageloans.com/great-mortgage-give-away.
To watch the FOX 8 and Nations Lending Corp. video uploaded to YouTube on Aug 7, 2012 in which Jeremy E. Sopko, CEO and President of Nations Lending Corporation is interviewed by Todd Meany about the contest, search for "Great Mortgage Giveaway - FOX 8 and Nations Lending Corp." on YouTube.
To watch the video uploaded to YouTube on Aug 6, 2012 in which Cheryl Lieber, Nations Lending Corporation's Vice President of Operations, invites WJW Television FOX 8 viewers to enter the contest, search for "GREAT MORTGAGE GIVEAWAY " on YouTube.
Media Contact:
Craig Montgomery
Vice President of Business Development
Phone: 877-816-1220, Extension 2228
Address: 4 Summit Park Drive, Suite 200, Independence, Ohio 44131