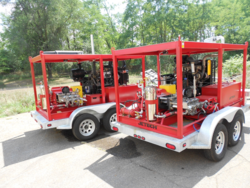 (PRWEB) August 17, 2012
High and ultra-high pressure pumping systems ranging from 10,000 to 40,000 psi are now available for rent or lease through Jetech's rental division, Tradewater that also provides safety training and information on how to perform maintenance on these devices.
The rental units are typically diesel-powered pumping systems mounted to a trailer. They come equipped with a length of hose, a lance or foot actuator and a complete set of spares, just in case. In order to rent one of these systems, there is a customer/credit application to fill out and proof of insurance must be provided that lists Tradewater as the loss payee on the specific piece of equipment. A vehicle capable of towing the rental unit will also be necessary, along with the first payment and possibly a security deposit. For more information about renting or leasing one of these devices, or for general questions, Tradewater can be reached at 888-437-7957.
Jetech is a leading provider of high and ultra-high pressure pumping systems and high pressure water jetting equipment located at 555 Industrial Park Drive in Battle Creek, Mich. These systems, used for water jetting, are handy in various scenarios. Water jetting can be applied to clean surfaces, demolish concrete or to remove painted lines from roads, among other applications. Using these pumping systems is economical, environmental and is cleaner than sandblasting. High and ultra-high pressure pumping systems are also extremely precise and since they create no heat while being operated, they can be used to cut various materials without worry of melting, distorting or warping them. More information about Jetech and their product offerings can be found on their website, and you can learn more about their rental equipment at http://www.jetech.com/rentals.
Jetech's website was created by Market Pipeline. Market Pipeline, located in Portage, Mich. focuses on the development and design of websites, web marketing and SEO strategies. For more information on the company, check out their website, http://www.marketpipeline.com/.