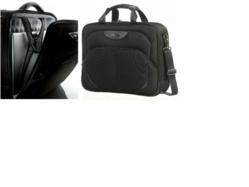 The Pro-Tect laptop range is created with a unique thermo formed cushion
Kent (PRWEB UK) 21 August 2012
The Pro-Tect laptop range is created with a unique thermo formed cushion to protect laptops from all the bumps your bag it likely to incur during travel. This high level protection allows your laptop to also remain cool while tucked away in its practical internal pocket.
Pro-Tect is designed for frequent business travellers who work while on the go. The handle design brings the option to be carried across the shoulder with an adjustable strap or as a traditional briefcase. The bags are designed to take laptops sizes from 15.6 inches up to 17 inches. The bags are also equipped with a "smart sleeve" so that it can piggy back on the handle of your trolley suitcase. All the conveniences of a mobile phone pocket and key hanger are internal features of these laptop bags. The Rolling Tote is an all-in-one choice having both the laptop compartment and a separate compartment for your other personal belongings.
Andy Steadman say: - "Understanding what it's like to always need your laptop while on the move, the ultra protection of this range is outstanding and reliable providing peace of mind of your treasured item being secure."
Travellers owning Samsonite Pro-Tect laptop bag range would have a 2 year warranty. Overall this bag is quite sturdy with a professional look.
Luggage Superstore established site is in West Kingsdown, Kent. Their aim is providing competitive prices of the highest quality luggage and top calibre Customer Service for online luggage shopping.
Trina Chee-a-kwai
Luggage Superstore
01474 854666
Email information