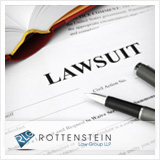 New York (PRWEB) August 20, 2012
Federal DePuy Pinnacle hip implant lawsuits consolidated for pretrial procedures in a Multidistrict Litigation case in the Northern District of Texas are moving apace, as evidenced by a new scheduling order. By Case Management Order No. 7, issued by United States District Judge Ed Kinkeade on August 14, 2012, in case number 3:11-MD-2244-K, numerous milestones were established.
Among the deadlines set are several that are likely to be of general interest: A list of requested persons to be examined at deposition is to be provided by the plaintiffs' counsel by October 29, 2012. By December 31, the defendants must advise the court that all relevant documents responsive to the plaintiffs' requests have been produced. And by September 2, 2013, the parties must recommend to the court 4-6 cases to be tried as bellwethers.
The first bellwether case is to be ready for trial by September 4, 2014.
Rochelle Rottenstein, principal of the Rottenstein Law Group, implores anyone with a friend or relative who has received a dangerous hip implant or other medical device to reach out to that person and recommend that he or she consult a physician immediately and then speak to a qualified personal injury lawyer. The Rottenstein Law Group maintains a DePuy Pinnacle Lawsuit Information Page at http://www.rotlaw.com/depuy-pinnacle. (Attorney advertising. Prior results do not guarantee a similar outcome.)
About THE ROTTENSTEIN LAW GROUP
The Rottenstein Law Group is a New York-based law firm that represents clients nationwide in mass tort actions. The firm was founded by Rochelle Rottenstein, who has more than two decades of experience as a lawyer, to represent clients in consumer product injury, mass tort, and class action lawsuits in a compassionate manner. http://www.rotlaw.com
Contact:
The Rottenstein Law Group, LLP
Rochelle Rottenstein, Esq.
321 W. 44th Street
Suite 511
New York NY 10036
(212) 933-9500 (office phone)
(212) 933-9980 (facsimile)
rochelle(at)rotlaw(dot)com
http://www.rotlaw.com