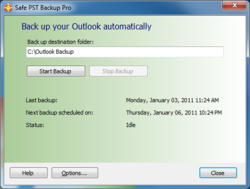 Coral Springs, FL (PRWEB) August 19, 2012
"No doubt you're already backing up your data, but have you taken PST precautions? If not, check out Safe PST Backup, a free utility that will automatically archive both Exchange folders and PST files. It supports incremental backups and works whether Outlook is running or not. (...)
Seriously, if you do nothing else to make Outlook easier to live with, make sure a hosed PST file doesn't bring down your entire operation. Back it up!"
Rick Broida, PCWorld
The new release brings performance and speed improvements, as well as it now supports most of Outlook versions, even Microsoft Outlook 2000 dinosaur is now supported.
The new Safe PST Backup Enterprise Edition includes the new advanced scheduling options.
4Team Corporation also released the new accompanying product for Safe PST Backup - the Administration Tool, which allows system administrators to monitor and manage the .pst backup process on multiple workstations from one place.
Enterprise edition is an advanced version of Safe PST Backup for backing up Microsoft Outlook or Exchange Server data on corporate network, for migration to a new version of Office or as a personal tool for .pst file back-up automation.
You can compare Free and Enterprise Safe PST Backup versions at http://safepstbackup.com/outlook_pst_backup_comparison.aspx.
Both Safe PST Backup Free and Enterprise Editions, as well as Administration Tool are now available worldwide at http://www.safepstbackup.com.
4Team Corporation is Microsoft Certified Partner and has been developing tools for Microsoft Outlook for more than 12 years. 4Team Corporation is a team of certified and experienced IT specialists who served hundreds of thousands of customers around the world with – a great variety of high quality products.
For more information please visit the Safe PST Backup website or call us +1-954-796-8161.