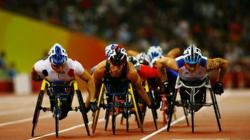 We are working flat out to stage a memorable Paralympic Games and I'm delighted that the enthusiasm and support for our Games from the UK shows no sign of wavering
(PRWEB) August 18, 2012
With less than two weeks to go to the London 2012 Paralympic Games, the London Organising Committee of the Olympic Games and Paralympic Games (LOCOG) has released a further 45,000 Paralympic tickets for sale alongside the 20,000 tickets currently available for the Paralympic Opening and Closing Ceremonies.
A record 2.2 million tickets have been sold to date, with 2.5 million expected to be made available in total.
Seb Coe, LOCOG Chair said: "After the nation took the Olympic Games and TeamGB to their hearts in such a spectacular way, it is no surprise that they look set to do the same for ParalympicsGB and the Paralympic Games. We are working flat out to stage a memorable Paralympic Games and I'm delighted that the enthusiasm and support for our Games from the UK shows no sign of wavering. "
Paralympic tickets are on sale at http://www.tickets.london2012.com. Prices start at just £10 (£5 for young people and seniors).
The majority of the tickets put on sale today are for Athletics. 25,000 of these have been made available, as well as smaller numbers of Wheelchair Basketball, Track Cycling, Equestrian and Rowing tickets. Athletics ticket prices at the Paralympic Games range from £10 to a top price £45, or just £5 for young people and seniors.
Remaining Paralympic tickets will become available over the coming days as the venue seating plans are finalised over the transition period. In some cases seats can only be made available on a day by day and session by session basis, meaning approximately 100,000 of these tickets will be released during the Games.
There are four general types of tickets to the Paralympic Games.
Reserved seating means that each individual ticket is assigned a specific seat in the venue and only the ticket holder may occupy the seat. This seating type applies to Athletics, Track Cycling, Swimming and the medal event sessions in some other sports.
General admission seating means that you can choose your seat on arrival at the venue on a first come, first served basis – and of course where tickets are bought for a specific session on this basis there will always be enough capacity to seat all ticketholders. Apart from some finals, this ticket type applies for Rowing, Equestrian, Road Cycling, ExCeL sports, Archery, Shooting, Wheelchair Basketball and other Olympic Park sports not included above.
An Olympic Park Day Pass gives access to all sports in the Park on a given day other than Athletics, Cycling, Swimming and the finals of some other sports. These sports include Goalball, Wheelchair Basketball, Wheelchair Rugby, Wheelchair Tennis, 5 a side Football and 7 a side Football.
An ExCeL Day Pass gives access to all ExCeL sports on a given day, other than Sitting Volleyball finals. The sports are Table Tennis, Judo, Sitting Volleyball, Wheelchair Fencing, Powerlifting and Boccia.
These £10 Day Passes are tickets exclusive to the Paralympic Games which enable spectators to view several Paralympic sports on the same day, either in the Olympic Park or ExCeL on a general admission, first come, first served basis. This requires seats to be available across the venues to enable people to move from sport to sport which means that seats may appear to be empty for periods of time during a session but will be used throughout the day.
LOCOG Commercial Director Chris Townsend explained, "Many people visiting the Paralympic Games will be experiencing these sports for the first time so we wanted to provide a broad experience for spectators. The Day Passes will allow people to dip in and out of sports and experience a range of sports in one day. We expect that this will mean at various points throughout the day venues will appear to have empty seats, but this won't mean tickets haven't been sold or people haven't turned up – at some point during the day we anticipate all seats will be used."
Games Makers and signage within the Olympic Park and ExCeL will be able to direct spectators to the arenas where most seats are available as people move in and out of the venues.
Olympic Park non-event tickets will also be made available on certain days during the Paralympic Games, priced at just £5, or £1 for young people and seniors. These tickets will allow thousands more people access to the Olympic Park and to get closer to the Games. Further details on the availability of these tickets will be released shortly.
In recognition of Visa's longstanding support of the Olympic Games and Paralympic Games, only Visa (debit, credit and prepaid) can be used to purchase tickets. For applicants outside of the UK, a full list of Authorised Ticket Resellers is available on the London 2012 ticketing website.
Customers are advised to purchase London 2012 Paralympic Games tickets only through official sources. It is illegal to sell London 2012 Paralympic Games tickets without the permission of LOCOG. Any website or individual claiming to have tickets for sale should be checked against the list of official outlets on the London 2012 ticketing website.
Notes to editors:
For further information please contact the London 2012 Press Office.
The Official London 2012 Join In app is a free mobile guide to help you plan, enjoy and share your Games experience. From the Paralympic Torch Relay to the Opening and Closing Ceremonies, plus all the cultural, city and community celebrations happening across the UK, the Official London 2012 Join In App is your essential companion.
Lloyds TSB is proud to partner the London 2012 ticketing programme and is supporting communities all over Britain on their journey to the London 2012 Paralympic Games. To find out more about its London 2012 programmes visit Lloydstsb.com/London2012
London 2012 Games partners:
The Worldwide Paralympic Partners who support the London 2012 Paralympic Games and the National Paralympic Committees around the world are Atos, Samsung and Visa.
LOCOG has sixteen domestic Tier One Partners - Acer, adidas, BMW, BP, British Airways, BT, Coca-Cola, Dow, EDF, GE, Lloyds TSB, McDonald's, Omega, Panasonic and Procter and Gamble and Sainsbury's. There are seven domestic Tier Two Supporters – Adecco, ArcelorMittal, Cadbury, Cisco, Deloitte, Thomas Cook and UPS. There are twenty-nine domestic Tier Three Suppliers and Providers – Aggreko, Airwave, Atkins, Boston Consulting Group, CBS Outdoor, Crystal CG, Eurostar, Freshfields Bruckhaus Deringer LLP, G4S, GSK, Gymnova, Heathrow Airport, Heineken UK, Holiday Inn, John Lewis, McCann Worldgroup, Mondo, NATURE VALLEY, Next, Nielsen, Otto Bock, Populous, Rapiscan Systems, Rio Tinto, Technogym, Thames Water, Ticketmaster, Trebor and Westfield.
The London 2012 Paralympic Games also acknowledges the support of the National Lottery.