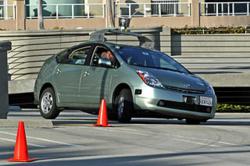 It's a shame when politics starts inhibiting progress for the sake of getting elected. Robotic driven vehicle are a thing of the near future. Something to be welcomed and encouraged
Newport Beach, CA (PRWEB) August 18, 2012
The Google driverless car has been around for several years, but has now made a new milestone -the fleet of robotic cars has driven a combined total of 300,000 miles with no accidents. Through testing on all kinds of roads and hazard conditions, it has performed beautifully, with no accidents. Not something that would happen with the average driver.
On average, U.S. motorists drive approximately 16,550 miles per year and they go about 10 years between traffic accidents - a lot less than the Google car.
The idea for a driverless car was developed by Sebastian Thrun, whose good friend died in an auto accident when he was only 18. Thrun vowed to find a way to reduce accidents caused by human error. He led the team at Stanford University that developed "Stanley" the autonomous vehicle that won the 2005 DARPA Challenge - a race for robotic vehicles. He now leads the Google team.
Although traffic fatalities have been dropping at a significant rate in the United States - 26% since 2005 and 37% in California alone, there are still 32,000 deaths each year due to traffic accidents.
How Will a Driverless Car Benefit Us?

Less traffic accidents - most are caused by driver error
Less traffic jams
Less fuel consumption
Allows greater freedom for those people that can't drive due to health reasons
What Are the Concerns With Robotic Cars?
There are several obvious concerns with using robotic cars to do all of our driving. One is the cost factor as well as getting the public to come on board with the idea. Here are some others:

Antiquated traffic laws. The technology will advance far faster than changing the existing laws, which all assume that a human is driving the car.
Certain jobs will be greatly reduced, such as traffic police.
Unforeseen problems that could occur using new technology
And now, we are starting to see political attack ads against politicians in favor of the driverless car. In Florida, ads are appearing that depict the "autonomous" car as being unsafe for elderly pedestrians.
John Bisnar of Bisnar|Chase Personal Injury Attorneys law firm, says, "It's a shame when politics starts inhibiting progress for the sake of getting elected. Robotic driven vehicle are a thing of the near future. Something to be welcomed and encouraged. However, there are always those who try to stall progress for their personal and financial gain. How much safer and more productive could we be, if we all had roboticly driven vehicles."
How Soon Can We Expect a Driverless Car?
They are currently using at least 8 cars including the Toyota Prius, the Audi TT and the Lexus RX. Although Google has said they have no plans to commercially develop the cars anytime soon, they have lobbied for two bills to make Nevada the first state where driverless cars can be legally operated.
And in fact, the first Prius with the Google Driverless technology was licensed in the state of Nevada in May of 2012.
The new license plates for these vehicles will have the infinity symbol (∞) on the left side, representing the car of the future.
These new driverless cars actually are required to have a driver behind the wheel (in Nevada) and will allow a human to take control of the system by stepping on the brake or turning the wheel.
While the car of the future may be here sooner than we think, for the time being we need to deal with traffic, congestion and the resulting accidents that occur from us human drivers.
About Bisnar |Chase
In business since 1978, Bisnar | Chase Personal Injury Attorneys represent victims of auto, motorcycle and other vehicle accidents as well as many other types of personal injury cases. They have been featured on ABC, NBC and Fox news networks and have developed a reputation of proven results for their clients.
If you or someone you know has been involved in a serious auto accident and needs some help with their personal injury claim, contact the Orange County Car Accident Lawyers. Call 800-561-4831 to get help and to find out your options today or visit their website at:
http://www.orange-county-lawyers.com
Attributions:
thecarconnection.com/news/1078432_florida-attack-ad-uses-driverless-cars-to-scare-elderly-voters
investmentu.com/2012/August/google-self-driving-cars.html