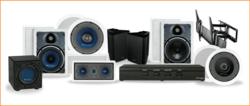 San Diego, CA (PRWEB) August 21, 2012
Steren Electronics International, a manufacturer of voice, video and data electronic solutions, announces the launch of Sequence by Steren, a stylish product line of loudspeakers, mounting hardware and installation accessories – bringing innovation to life with pure, rich sounds, high performance and professional results.
Designed for the custom install industry, Sequence delivers a versatile, affordable and quality solution to any installation project. The new Sequence line blends high-design and high-fidelity with ease of installation, making an effortless but lasting impression.
"Sequence by Steren is the ultimate combination of value, performance and style. Our new products enhance today's listening environments and lifestyles to ensure an impactful experience for homeowners," said Darren Rawson, President of Steren Electronics Group. "We are excited to offer installers an extraordinary array of products that will fit seamlessly into any home."
About Sequence Line of Products
Sequence loudspeakers are high quality speakers, designed to deliver pure, rich sounds with great value and sonic performance in every room of a house. The speaker collection includes in-wall and in-ceiling speakers, indoor/outdoor speakers and powerful subwoofers; all designed with premium acoustic technology for home entertainment.
Sequence mounting hardware provides quick installation solutions with minimal components, effortless adjustments and features to accommodate most installation applications. Designed for strength and flexibility, these VESA-compatible mounts offer unique designs along with full motion capabilities from tilting to fully articulating.
Sequence installation accessories add value to any installation with applications ranging from pre-installation speaker kits to volume controls. All the Sequence accessories are sure to make any installation simple, dependable and profitable.
For more information, visit http://www.SequenceBySteren.com (launching September 1st) or call 800-266-3333.
About Steren Electronics International, LLC
Steren Electronics International is a minority-owned, 55 year old manufacturing company with brand recognition throughout North American and Mexico. Steren continues to offer one of the largest portfolios in the electronics and electrical connectivity world, offering a wide variety of innovative solutions for the ultimate consumer experience. For more information, please visit: http://www.sterenusa.com or 800-266-3333.
###