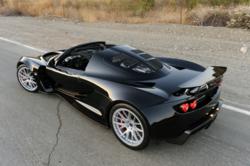 Tested 0-200 mph times of 15.3 seconds make it the quickest accelerating supercar in the world.
PEBBLE BEACH, CALIFORNIA (PRWEB) August 18, 2012
Hennessey Performance, the Texas company known around the world for building some of the fastest and most powerful cars on earth, will be showing their Venom GT Spyder supercar for the first time at the Pebble Beach Concours on Sunday, August 19th. The vehicle is owned by Aerosmith lead singer and former American Idol judge, Steven Tyler. New for 2013, the team from Hennessey now offers a removable hardtop and soft-top roof for their Texas-built supercar.
"Steven came to us last year and asked if we could build his Venom GT as a roadster," said company founder, John Hennessey, who was on hand during the delivery. "We had to make a few structural changes to our integrated roll cage in order to be able to fit the removable top. This increased the weight of our vehicle by about 30 lbs to a curb weight of 2743 lbs (1244 kilograms). We decided to increase the Venom GTs power to 1244 bhp to maintain our 1 horsepower per 1 kilogram power to weight ratio."
The 2013 Hennessey Venom GT Spyder sports a Hennessey-built 7.0L (427 CID) twin turbo V8 powerplant producing 1244 bhp @ 6600 rev's, making it the most powerful roadster in the world. It tested at 0-200 mph in 15.3 seconds, making it the quickest accelerating supercar in the world.
Only five Venom GTs are built each model year. 2013 production is sold out and the company has a waiting list for 2014 deliveries. With a price of $1.1 million US Dollars, the Venom GT is not only the most powerful roadster available on the market today, but it is also one of the rarest. To date, a total of eight Venom GTs have been built and the company plans to limit production to just twenty-nine examples.