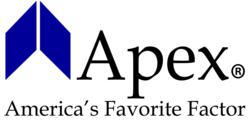 Apex, a provider of freight factoring services with an exclusive fuel program for carriers, utilizes this opportunity to socialize and network.
Fort Worth, TX (PRWEB) August 21, 2012
Apex Capital is attending the 14th annual Great American Trucking Show in Dallas, Texas from August 23 - 25, 2012. Apex has exhibited at GATS for the past 11 years, meeting with clients, advising prospects and connecting with other industry leaders. Apex, a provider of freight factoring services with an exclusive fuel program for carriers, utilizes GATS as an opportunity to socialize and network.
This year, Apex will be at booth #18034 next to the Pride and Polish Truck Beauty Competition. Apex will have multiple giveaways and specialists will be available to shake hands and answer any questions. Clients and trade professionals wearing an Apex t-shirt are invited to collect a special gift.
Owner operators, for-hire trucking companies, company drivers, private fleets and other industry professionals attend GATS to network and explore resources to provide their businesses with a competitive edge. Exhibitors participate in GATS to market new products and services, increase brand awareness and connect with suppliers, customers, and prospects. Apex utilizes these events to improve understanding of industry needs through interaction with clients, prospects and other exhibitors.
###
ABOUT THE GREAT AMERICAN TRUCKING SHOW
The Great American Trucking Show is an all-encompassing convention of trucking professionals, featuring more than 500 exhibitors representing truck, trailer, engine, tire, oil/lubricant, component and parts manufacturers, as well as other products and services catering to the heavy- and medium-duty truck industry. Highlights of the show include the Pride & Polish National Championship, educational seminars sponsored by the Texas Motor Transportation Association and a free concert from top country music artist, John Anderson. Nearly 50,000 people head to Dallas each fall to attend GATS, including owner-operators, fleet executives, company drivers, suppliers, dealers and OEMs. Contact: Alan K. Sims, vice president/executive director, Randall-Reilly Events at (800) 633-5953, ext. 1339 or asims(at)randallreilly(dot)com.
###
ABOUT APEX CAPITAL
Founded in 1995, Apex Capital provides more than just cash flow for clients. Apex provides honest and innovative full service freight bill factoring, a competitive fuel discount program and total management of accounts receivable. Apex works with the Alliance for Safe, Efficient and Competitive Truck Transportation (ASECTT) and other organizations to ensure fair legislation and regulation of the trucking industry in order to keep the industry competitive and profitable for America's freight haulers. Apex is a privately held company in Fort Worth and has been voted one of the top companies to work for in Texas for the last 5 years. For more information call 800.511.6022 or visit http://www.apexcapitalcorp.com.