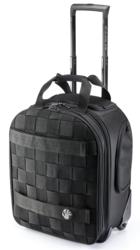 This is the perfect bag fro short trips and it is by far the best LAN bag on the market today.

Cris Bremner, Director of Marketing at SLAPPA
Charlotte, North Carolina (PRWEB) August 21, 2012
SLAPPA, LLC maker of professional-quality cases, bags and backpacks designed specifically for laptop computers, cameras and gaming gear announced today that it has expanded its popular line of Jedi Mind Trix products with the launch of the new Jedi Mind Trix 'Bottomless Pit' Trolley. Currently available for pre-order on http://www.SLAPPA.com, the Jedi Mind Trix broadens SLAPPA's line of highly protective travel and gear bags.
"When designing this bag, our design team focused on building the perfect travel trolley for the 3-5 day traveler. The person who didn't need to lug a large suitcase, but at the same time wanted to comfortably fit all their gear and clothes in a good looking, highly protective and flexible case," said Cris Bremner, Marketing Director at SLAPPA. "This trolley, like the entire Jedi line, features our 'interweave strap' design, which was the cherry on top in terms of offering limitless flexibility. Users can now add on other things they are porting – a jacket, a tri-pod, skateboard; we have even designed a new Jedi keyboard sleeve that easily attaches to the front of this trolley creating the perfect LAN bag. This strap system coupled with all of the inner storage makes this a very flexible travel trolley."
The medium sized Jedi Mind Trix features a lot of storage with 2 main inner sections; the main large section will easily fit 4-5 days' worth of clothes or most mixing consoles and chords, and the front section is large enough to fit most all large 17" and 18" laptops including the ASUS G74, Alienware M17x and M18x, and the MSI GT683 (an optional laptop sleeve is suggested). The front section also touts 4 inner storage pockets for mobile gadgets, sunglasses, an iPad/tablet and all the small things you travel with. The outside features three easy-access pockets for things you need to grab quickly.
The Jedi uses SLAPPAs xEVA for the front face, laminated with 1680D Nylon that is abrasion and water resistant, and has a rigid molded side panel for additional protection. Other well thought out features include high tensile strength molded zipper pulls and the five stage, 24" sturdy aluminum handle system allowing it to be positioned in the most comfortable and suitable position.
The Jedi Trolley can be paired with any other members of the Jedi Mind Trix family to create a striking matching set of bags. All the Jedi products are available on http://www.SLAPPA.com.
ABOUT SLAPPA
Established in 2002, SLAPPA Distribution, LLC engineers, manufactures and distributes innovative products, offering the highest quality backpacks, laptop bags, sleeves and specialty cases for CD and DVD collectors, DJ's, Pro Audio users, Gamers and photographers. SLAPPA has earned a reputation for offering dependable, quality products with unparalleled performance. The company has been recognized for its excellence by leading consumer publications and sites, both in the U.S. and abroad. SLAPPA products are currently available in 14 countries around the world. SLAPPA, LLC continues to actively expand its domestic and international presence with new and innovative products.