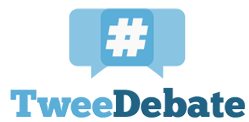 Follow Your Passion!
Morgan City, MS (PRWEB) August 19, 2012
There's no secret that at some point in everyone's life, a question that needs answers will arise, and with the help of a newly developed Twitter app, people across the globe can get those answers directly from experts.
"Right now we need those experts on specific topics to get on Tweedebate and use our platform to discuss certain topics," said Rocky Leflore, ceo of Tweedebate.com. "Our app, Tweedebate, is a Twitter application that gives Twitter users a place to gather and talk about the things they are most passionate about."
Leflore explained that Tweedebate is unique because it has an atmosphere that is missing from Twitter.
"It gives experts the ability to talk about their ideas and form business contacts and friendships with other Twitter users," said Leflore.
The way Tweedebate works is that instead of following people, on Tweedebate, you are following your passion and receiving input from experts on specific topics.
Leflore described his company's app as the new age of old discussion boards where a group of Twitter users who have the same love or passion can get together and discuss a variety of topics.
"We're targeting Twitter users and also, any world-wide web user that is an expert on a certain topic," Leflore noted. "If you're an expert, we want you."
Tweedebate.com user Ben Riley said he gives the app two thumbs up.
"I love major league baseball, so I decided to follow the #MLB and I can keep up with all the experts and discuss with other MLB fans and experts the happenings around the MLB," said Riley.
Leflore added that as a user on the internet, "I find places that have users that share the same interest as myself. With Tweedebate, it puts all those people under one umbrella per say and they can bounce ideas or discuss topics they are all experts in."
For more information about Tweedebate or to register as an expert, please visit: http://www.tweedebate.com