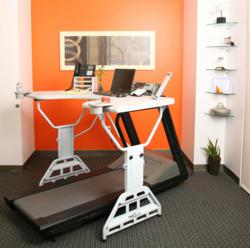 Children who spend 75% or more of their time engaged in sedentary behaviors face a nine fold increased risk of poor motor skill development.
Scottsdale, AZ (PRWEB) August 17, 2012
A new study published in the American Journal of Human Biology this week concludes that America's growing trends towards sedentary behaviors have an extraordinarily negative impact in normal motor skill development among children. Steve Bordley, CEO of TrekDesk Treadmill Desk, is hoping to raise awareness to the dangers of sedentary lifestyles through a movement revolution on Facebook.
The study's findings were consistent with recent announcements that show that physical activity alone is not sufficient to negate the harmful health effects of sedentary lifestyles. Alarmingly the effects on childhood motor skill developments were pronounced. Children spending more than ¾ of the day watching television, playing on computers and other sedentary activities had as much as nine times a greater likelihood of poor motor skill development than active children.
Motor skill development includes basic coordination skills necessary for walking and hand/eye skills such as throwing and catching and are critical to normal development. "America has enough of a health challenge with childhood obesity rates as high as 40% in some states, this new study is even more alarming in my mind," stated Steve Bordley, CEO of TrekDesk Treadmill Desk. "TrekDesk has been dedicated to raising awareness as to the importance of movement throughout the day. Our goal is to launch a movement revolution in this nation that encourages simple steps to prevent our current health crisis."
The study was conducted by the University of Minho in Portugal. Lead scientist Dr. Luis Lopes was quoted in the Journal regarding the severity of this problem. "Childhood is a critical time for the development of motor coordination skills which are essential for health and well-being. We know that sedentary lifestyles have a negative effect on these skills and are associated with decreased fitness, lower self-esteem, decreased academic achievement and increased obesity."
The impact of sedentary behaviors, while dramatic among young girls was even greater among boys. Girls spending in excess of 77.3% of their day sedentary were 4 to 5 times less likely to have normal motor coordination compared to active peers. Boys were 5 to 9 times less likely to achieve normal motor coordination levels.
"Children inherit lifestyle behaviors from their parents based on observation," stated Bordley. "The message of movement must be stressed in our society at all age levels and the time to educate Americans is now."
Read the full report on the study here: http://bit.ly/S4w0jY
Designed to fit any existing treadmill, TrekDesk treadmill desk is an affordable, full sized, height adjustable workstation that allows individuals the opportunity to gain the necessary amount of exercise daily to maintain health, prevent disease, strengthen muscles, boost mood and productivity, without requiring additional time during the day or extra motivation. Wondering how to workout at work? TrekDesk offers the solution.
TrekDesk is currently available for sale online at http://www.trekdesk.com.
Join the TrekDesk "Movement Revolution" to learn more, win a free TrekDesk or ask any health related questions anytime at http://www.facebook.com/trekdesk, or follow TrekDesk on twitter http://www.twitter.com/trekdesk.