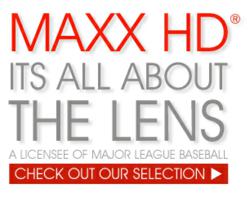 (PRWEB) August 17, 2012
Maxx HD® Sunglasses, the fast growing provider of affordable high definition sunglasses, announced a new employee development training program today with the help of Weldon Long, a Colorado Springs-based inspirational speaker, successful entrepreneur, and the award-winning author of The Upside of Fear. Long is an expert in personal responsibility who broke a 20-year cycle of prison, poverty and addiction and grew an Inc. 5000 company with $20 million in sales in just five years.
Maxx HD® Sunglasses will launch their new employee development initiative with an all-day private training event on Saturday August 18th at the Colorado Springs Marriott. Weldon Long will train the MAXX HD® staff with his signature Power of Consistency® Training Program - Prosperity Mindset® Training for Sales and Business Professionals. Long describes this program as The Missing Link in Your Sales and Business Results. He has created a four-step process to inspire companies' and their staff to achieve anything and show them how to overcome any obstacle they might face in life and business. This four-step process based on the acronym FEAR, includes the following: Focus, Emotional Commitment, Action, and Responsibility. Long's training will also include taking Maxx HD® Sunglasses' existing sales process and organizing it according to his Hallway Sales® System.
"In their quest for survival most companies skimp on training, a lack of training contributes to low morale and poor productivity", stated Rick Milner MAXX CEO. "Our vision at Maxx is to constantly develop our staff, so that they continue to grow as the company grows. Without continually growing and learning both personally and professionally, it's unlikely that any individual employee will still be with the company five years from now."
Maxx HD® Sunglasses will implement Long's process into their culture and will continue to work with Long on an ongoing basis. For more information on Maxx HD® Sunglasses or Weldon Long please visit their websites at http://www.maxxsunglasses.com or http://www.weldonlong.com.