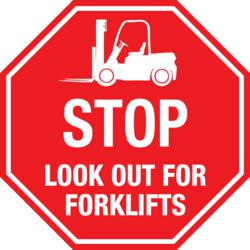 "No need to read instructions, just type, hit print, and you have the label required."
Lake Oswego, OR (PRWEB) August 20, 2012
Stop! That is the message you get when you see a stop sign. It is also a message Creative Safety Supply is now offering to the industrial market through floor signs. The signs are provided with pre-designed messages to stop and look out for forklifts and numerous other safety languages. The signs were developed to communicate safety instructions and directional information to reduce the number of safety hazards. The signs are also available to be custom made with any image or writing that fits the need at any industrial facility. Creative Safety Supply offers this option at no extra charge which saves money for safety programs. A variety of the signs are not the type that will tip over if bumped into by machinery or personnel. The signs are peel-&-stick and can be applied to about any type of surface such as permanent walls.
Another option Creative Safety Supply now offers is the sign printers to make labels that will keep a lean and visual workplace. The Labeltac 4 Industrial Labeling Machine is highly recommended by a survey of numerous manufacturing facilities. It was rated to be the most cost effective and easiest way to print labels. It provides an easy way to use software, or Windows compatible programs, like Microsoft Word. As one individual stated, "No need to read instructions, just type, hit print, and you have the label required." The machine will print indoor and outdoor signs and labels up to 4" tall, and 40" long. The labels are weather and chemically resistant and will not fade or smear over time. Creative Safety Supply now offers the ability to rent and return after completion of the job. Or the rental fees can go towards the purchase of the printer.
To learn more about custom floor signs or owning or renting one of the sign/label printers, please visit http://www.creativesafetysupply.com for more information.