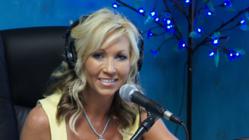 "80 percent healthy, 20 percent indulgent and 100 percent Southern....
Nashville, TN (PRWEB) August 28, 2012
TNN and Luken Communications, LLC have recently finalized securing Robin Shea and her wildly popular health and cooking show, "Southern Fried Fitness", for a one year contract beginning with the launch of the much anticipated resurgence of country's most popular TV channel in October of this year.
"'Southern Fried Fitness' is that oxymoron that makes people stop and think- we like it because the host is smart, down to earth, and cooks some really good stuff," says TNN. It doesn't hurt that this Southern girl is incredibly fit and has raised four boys, so she's not just blowing smoke, she's been there, they added.
Robin's show is moving into its fifth season, and currently airs on PBS as well as several cable networks across the U.S. In a recent interview, Robin said, "My message to people is simple and easy, and all about reinventing your relationship with food and fitness- it doesn't have to be difficult or impossible- I love sharing what I know. I'm passionate about helping people realize that living healthier, longer lives can be accomplished without a crazy starvation diet that is the current fad."
Robin was pleased that she could partner with TNN and Luken. "As a younger mother, I watched TNN all the time. To think that I am now a part of the storied network gives me goosebumps. I love it! I hope my message is well received by the TNN audience. I am honored to be able to provide TNN with a prime time quality show."
"Southern Fried Fitness" will air Monday-Friday at 6pm EST beginning October 1st, 2012, with the relaunch of The Nashville Network.