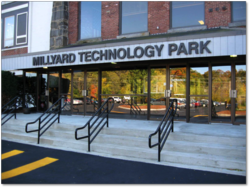 This office expansion is a direct result of significant growth for Zco over the past few years.
(PRWEB) August 20, 2012
Zco Corporation, a custom software company headquartered in Hudson, New Hampshire, is expanding to an eighth worldwide location. The new facility is located at the Millyard Technology Park in Nashua, NH.
The Millyard Technology Park is located adjacent to Mine Falls Park trails, which will allow employees and guests to enjoy numerous recreational activities such as walking, boating, fishing, cross-country skiing, and biking.
The technology park itself includes an in-house café serving full breakfast and lunch, 50" plasma televisions, and a lounge area complete with pool tables.
The new office space is an open concept, two-level suite with views of the Nashua River. The company is currently in the process of renovating, with a goal of moving part of its staff to the technology park by October 1. The renovations will include an employee "activity zone" with badminton courts.
The technology park is one of six new locations that have been added over the past two years for the corporation. It adds a second office in southern New Hampshire, along with an existing Zco retreat in Maui, Hawaii. CNN's America's Top States for Business 2012 report rates New Hampshire and Hawaii as number one and number two in the country for quality of life.
"This office expansion is a direct result of significant growth for Zco over the past few years," said Katie Meurin, Director of Marketing with Zco Corporation. "We've doubled the number of New Hampshire employees, and have happily outgrown our space in Hudson"
The company anticipates continued growth in the coming years partially as a result of its new mobile products – PolicePad and FireTab.
ABOUT ZCO
Founded in 1989, Zco Corporation serves Fortune 20 companies to small businesses as One Stop For All Your Digital Needs™. Zco is one of the world's largest developers of custom mobile applications, an animation studio designing high-end 3D content and games, and a veteran in the enterprise custom software industry. For more information on Zco Corporation visit http://www.zco.com/.