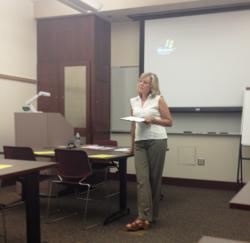 Middletown, MD (PRWEB) August 20, 2012
Linda Norris-Waldt of NW Communications used the traditional summer break to plan ways to help mid-Maryland entrepreneurs with ground-level marketing expertise four upcoming teaching sessions.
On Wednesday, Aug. 29, Norris-Waldt will coach a group of Frederick area entrepreneurs on blogging at a Build Your Own Business session of KRB Training Solutions, a local company specializing in corporate training. The session will be held from 5-6 p.m. at the Wine Kitchen in downtown Frederick, and the topic is "Blogs and How They Can Help You Hit Your Marketing Targets." The cost is $10 and info to register is at the KRB Training Solutions website.
The week after, beginning September 4, Norris-Waldt will spend three Tuesday evenings in a row teaching at Frederick Community College, where she is an adjunct instructor. The course, entitled "Walk Out with a Marketing Plan," will enable small businesses to work through marketing goals comprehensively for their coming year. To register, download here and go to page 6 for course description and page 49 to register.
For more information about either opportunity, email Linda at lindanorriswaldt(at)gmail(dot)com or call 240.315.8876.
NW Communications is a woman-owned business that specializes in copywriting, messaging and effective media relations to bring organizations and businesses new clients, increased audience and customer loyalty, and deeper understanding of your key products, services and messages.
-30-