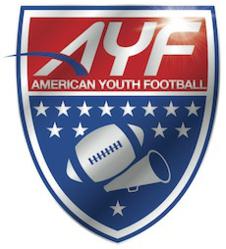 New York, NY (PRWEB) August 20, 2012
American Youth Football (AYF), the world's largest youth football and cheer organization, and NBC Sports Group, today announced an agreement to air the National Championships on New Year's Day in 2013 on NBC Sports Network.
With over 160 football teams and 140 cheer squads from domestic and abroad expected to compete, the annual event, which will be held December 1-8, in Kissimmee, Florida, has become the largest football and cheer tournament in the world.
"The AYF National Championships is our defining event," said Joe Galat, President of American Youth Football. "To have the NBC Sports Network air our games only goes to validate the continued growth and success of our organization."
About American Youth Football (AYF):
AYF is an independent 501 (c) (3) non-profit corporation that provides support services, scholarships, grants, and community programs and tournaments to over one million members in the 50 states and several countries worldwide. AYF is committed to giving back, and since its inception in 1996, has donated over $15 million dollars in grants and athletic products to communities that support youth football. AYF was the first national organization to offer all-inclusive football divisions, enabling every child an opportunity to play. For more information visit http://www.americanyouthfootball.com.
About NBC Sports Network:
NBC Sports Network is the 24/7 cable platform for NBC Sports' rich heritage of unmatched storytelling, best-in-class production and utilizing broad promotion to make big events bigger. Now in more than 79 million homes, NBC Sports Network serves sports fans by airing coverage of the Olympic Games and Trials as well as the National Hockey League (NHL), Major League Soccer (MLS), IZOD IndyCar Series, Tour de France, major college football and basketball, and horse racing surrounding the Triple Crown, among other events.  The network's original programming, such as Costas Tonight, NFL Turning Point and NBC SportsTalk, exemplifies NBC Sports' ability to tell stories and provide meaningful, relevant content. The network is also home to the best outdoor programming on television. NBC Sports Network, which prides itself on serving sports fans across multiple platforms, is distributed via cable, satellite and telco operators throughout the United States.