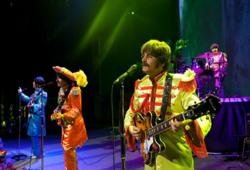 The next best thing to seeing The Beatles!
Worcester, MA (PRWEB) August 20, 2012
Direct from their phenomenally successful Broadway engagement, the internationally-acclaimed Beatles concert, EXPERIENCE THE BEATLES WITH RAIN, makes its debut at The Hanover Theatre for the Performing Arts in Worcester, MA next year, March 1-3, 2013. Tickets are on sale now to members of The Hanover Theatre before going on sale to the general public on Friday, September 14 at 10am.
"As "the next best thing to seeing The Beatles!" (Associated Press), Rain performs the full range of The Beatles' discography live onstage, including the most complex and challenging songs that The Beatles themselves recorded in the studio but never performed for an audience. Together longer than The Beatles, Rain has mastered every song, gesture and nuance of the legendary foursome, delivering a totally live, note-for-note performance in this multi-media concert, that's as infectious as it is transporting. From the early hits to later classics "I Want To Hold Your Hand," "Hard Day's Night," "Sgt. Pepper's Lonely Hearts Club Band," "Let It Be," "Come Together," "Hey Jude" and more), this adoring tribute will take you back to a time when all you needed was love, and a little help from your friends!
Ticket prices are $32, $42, $52 and $62 with a 10% discount available for members of The Hanover Theatre, groups of 15 or more and WOO Card holders. A 15% discount is available for groups of 50 or more. Tickets are available online at TheHanoverTheatre.org, by phone at 877.571.SHOW (7469) or at The Hanover Theatre Box Office located at 2 Southbridge Street in downtown Worcester.
Tickets for EXPERIENCE THE BEATLES WITH RAIN are also available as part of a six show Broadway Series Subscription Package, including MARY POPPINS, WEST SIDE STORY, AMERICAN IDIOT, LES MISÉRABLES and THE ADDAMS FAMILY. Subscribe by August 27 to receive the best seats available for MARY POPPINS and you'll also receive a Basic Membership, a complimentary parking pass and a variety of benefits from cultural partners, restaurants and other businesses throughout Worcester County. Plus, subscribers save an additional 15% on new Broadway tours and more, including CHICAGO, DISNEY'S BEAUTY AND THE BEAST, SANDY HACKETT'S RAT PACK SHOW, LORD OF THE DANCE and STOMP.
About The Hanover Theatre
The Hanover Theatre for the Performing Arts, located in downtown Worcester, New England's second largest city, is recognized by Pollstar as one of the Top 50 Theatres in the World. After undergoing many name changes and renovations over the decades since its 1926 birth, The Hanover Theatre reopened in March 2008 following a $32 million historic restoration. Since then, the theatre has established its place as a rich entertainment and cultural venue, winning numerous awards, including The National Trust for Historic Preservation Award in 2010. Now in its fifth season, The Hanover Theatre continues to expose over 170,000 annual patrons to world-class entertainment in the form of Broadway, concerts, comedians and much more. For more information, visit TheHanoverTheatre.org. Worcester Center for the Performing Arts, a registered not-for-profit 501(c)(3) organization, owns and operates The Hanover Theatre for the Performing Arts. All donations are tax deductible to the fullest extent allowed by law.