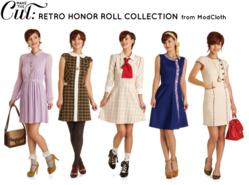 San Francisco, CA (PRWEB) August 20, 2012
ModCloth, an online retailer specializing in vintage-inspired women's apparel, just launched its second crowdsourced private-label collection through their Make the Cut: Retro Honor Roll Contest. More than 660 original design sketches were submitted, from which ModCloth's co-founder and chief creative officer, Susan Gregg Koger, selected 25 finalists. The theme of the contest was "Retro Honor Roll" and the collection is inspired by 1960s back-to-school styles. Voting took place on ModCloth's Facebook page, giving fashion fans the chance to cast their vote for the items they wanted to see produced for an exclusive fall line. The five fan-chosen champions have their designs for sale on ModCloth, and are credited with the design on custom garment tags. All Make the Cut products can be found here, including the Retro Honor Roll pieces.
Make the Cut Contests are a key part of ModCloth's mission to empower its community to directly impact apparel production and democratize fashion. "A critical component of ModCloth's success has always been our strong customer community, which is made up of very talented, intelligent and vocal women," states Maggie Glover, head of community at ModCloth. "Our customers not only want to give feedback on what we produce and sell, but they also want the opportunity to actively participate in the whole process, whether it be actually designing a garment, or voting on what designs they think will sell the best. The Make the Cut program gives us the chance to produce garments that are in-line with our community's desires and also to help our customers fulfill their dreams of participating in the world of fashion. It's a win-win!"
The inaugural Make the Cut: Premiere Collection launched in May and comprised ten items exclusive to ModCloth: seven from designs submitted by the ModCloth community and three designed by Susan Gregg Koger. On the first day alone, the site sold 40 percent of the available inventory units.
ModCloth plans to continue developing the Make the Cut program, and the third installment of the contest is already in full swing, in partnership with Teen Vogue, to produce a Winter Garden Gala inspired collection. ModCloth is excited to be partnering with Teen Vogue, one of the leading sources of fashion and beauty news for style-conscious teens and 20-somethings everywhere.
About ModCloth:
ModCloth is an innovative online retailer of vintage-inspired fashion and decor. It is building a platform that empowers its global community to directly collaborate on the production of unique and inspiring merchandise, with the mission to change the way fashion is discovered, developed, and delivered around the world. ModCloth has gained media attention for cultivating one of the most active communities in fashion through groundbreaking engagement strategies that extend from its site to social networks like Facebook, Pinterest, and Twitter. The company was founded by husband and wife Eric Koger and Susan Gregg Koger, who now have a team of nearly 300 helping them make their vision a reality. They're backed by Accel Partners, First Round Capital, Floodgate, Harrison Metal, StubHub founder Jeff Fluhr, and Norwest Venture Partners.