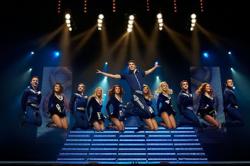 Today, it's selling out arenas and theatres as the world's highest grossing Irish dance show.
Worcester, MA (PRWEB) August 20, 2012
Sixteen years ago, Michael Flatley's LORD OF THE DANCE launched. Today, it is selling out arenas and theatres as the world's highest grossing Irish dance show. Generations of audiences, more than 60 million people from 68 countries, have seen LORD OF THE DANCE. Presented by MagicSpace Entertainment and Global Entertainment Group, and generously sponsored by Commerce Bank, the tour arrives at The Hanover Theatre for the Performing Arts in Worcester, MA on Thursday, March 7 at 8pm. Tickets are now on sale to members of The Hanover Theatre before going on sale to the general public on Friday, September 21 at 10am.
A 2012 Valentine's Day tour launch is merely coincidence, but is fitting since an integral part of the show is a love story between the two main characters. "LORD OF THE DANCE is a classic tale of good versus evil, based on Irish folklore that brings a romantic and passionate love story to life," says Flatley. The story is based upon mythical Irish folklore as Don Dorcha, Lord of Darkness, challenges the ethereal lord of light, the Lord of the Dance. "Battle lines are drawn, passions ignite and a love story fueled by the dramatic leaps and turns of dancers' bodies begins to build against a backdrop of Celtic rhythm," says Flatley. "Fans can expect 21 scenes of precision dancing, dramatic music, new colorful wardrobes and state-of-the-art staging and lighting."
Ticket prices are $27, $37, $47 and $57 with a 10% discount available for members of The Hanover Theatre, groups of 10 or more, kids, students and WOO Card holders. Tickets are available online at TheHanoverTheatre.org, by phone at 877.571.SHOW (7469) or at The Hanover Theatre Box Office located at 2 Southbridge Street in downtown Worcester.
Subscribe to the 2012-13 six-show Broadway Series Subscription Package by August 27, including MARY POPPINS, WEST SIDE STORY, EXPERIENCE THE BEATLES WITH RAIN, LES MISÉRABLES and THE ADDAMS FAMILY, and save an additional 15% on CHICAGO, DISNEY'S BEAUTY AND THE BEAST, SANDY HACKETT'S RAT PACK, LORD OF THE DANCE and STOMP. Subscribers can also take advantage of a Basic Membership to The Hanover Theatre, a complimentary parking pass, and a variety of benefits from cultural partners, restaurants and other businesses throughout Worcester County.
About The Hanover Theatre
The Hanover Theatre for the Performing Arts, located in downtown Worcester, New England's second largest city, is recognized by Pollstar as one of the Top 50 Theatres in the World. After undergoing many name changes and renovations over the decades since its 1926 birth, The Hanover Theatre reopened in March 2008 following a $32 million historic restoration. Since then, the theatre has established its place as a rich entertainment and cultural venue, winning numerous awards, including The National Trust for Historic Preservation Award in 2010. Now in its fifth season, The Hanover Theatre continues to expose over 170,000 annual patrons to world-class entertainment in the form of Broadway, concerts, comedians and much more. For more information, visit TheHanoverTheatre.org. Worcester Center for the Performing Arts, a registered not-for-profit 501(c)(3) organization, owns and operates The Hanover Theatre for the Performing Arts. All donations are tax deductible to the fullest extent allowed by law.
About Commerce Bank
Commerce Bank is a full-service, FDIC-insured, state-chartered financial institution. Founded in 1955 and headquartered in Worcester, Massachusetts, the Bank offers a comprehensive array of innovative financial solutions including commercial loans, real estate and home mortgages, as well as deposit, savings and retirement accounts. These services are available through the Bank's 13 convenient offices located throughout Central Massachusetts. As of December 31, 2011, Commerce Bank had $1.4 billion in assets. For more information, visit BankAtCommerce.com