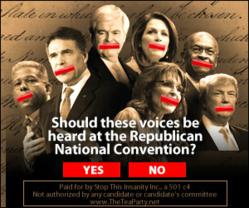 Washington, DC (PRWEB) August 17, 2012
TheTeaParty.Net, one of the largest national Tea Party groups, announced the launch of its "Let Them Speak" petition today. The petition calls for the Republican National Committee to allow Tea Party leaders to speak at the 2012 Republican National Convention in Tampa, Florida.
"The 2012 Republican National Convention has begun to announce keynote speakers and many prominent Tea Party leaders are noticeably absent from the list," said Todd Cefaratti, Freedom Organizer of TheTeaParty.Net. "The RNC's blatant attempt to silence Tea Party voices and ignore the historic success of the Tea Party since 2009 is not only outrageous -- it threatens to hand this election to Barack Obama and further bankrupt our country. We hope this petition will show the RNC that it needs the Tea Party's energy in the election this fall and inspire it to include Tea Party leaders in the convention speaker program."
TheTeaParty.net is also a chief sponsor of the Unity Rally 2012, a rally for conservative unity to be held in Tampa on August 26th, the evening before the start of the Republican Convention. "The Tea Party is taking the initiative to build conservative union ahead of this fall's election," explained Dustin Stockton, Chief Strategist of TheTeaParty.Net. "We are providing Tea Party leaders like Herman Cain and Michele Bachmann a venue to speak at Tampa. Our hope is that the RNC joins us in the spirit of unity and allows Tea Party leaders an opportunity to speak at their convention." More information on the Unity Rally 2012 can be found at http://www.unityrally2012.com.