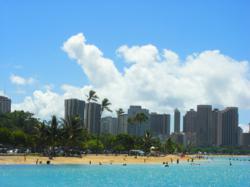 Keep you vehicle N-Motion
Los Angeles, California (PRWEB) August 18, 2012
Vehicle Shipping between the Mainland and Hawaii has never been so easy. When shipping from any of the continental U.S. states to Hawaii, N-Motion Auto Transport will now pick that vehicle up from its location and bring it to the port in California. When shipping from Hawaii to any of the continental U.S. states, N-Motion Auto Transport will now pick that vehicle up at the port in California and deliver it to its final destination.
With the new and improved Auto Shipping to Hawaii program, N-Motion Auto Transport will arrange for the right carrier to haul or load that vehicle and will proudly arrange the transport of that vehicle as well. They cover all 48 Continental U.S. States and Hawaii. N-Motion Auto Transport will ship that personal auto, truck or SUV, Minivan safely and securely to Hawaii. N-Motion now offers bi-weekly service between the US West Coast and Honolulu, Kahului, and Hilo Hawaii. A variety of shipping options are available to meet any customers individual needs.
N-Motion Auto Transport will help arrange a vehicle shipment in a closed container. Full enclosure protects vehicles from environmental damage caused by salt, dust, sand and industrial contaminants.
Below is a list that will make shipping that vehicle to/from Hawaii easier.
Required items upon delivery of a vehicle:

Customers must provide N-Motion Auto Transport with keys to the ignition, trunk, gas cap and any locked compartment. Please have copies of the keys made and leave only the copies (keep your original set of keys) after the customer has checked to ensure that the copies fit all devices/compartments.
Original Vehicle Registration and Title
N-Motion Auto Transport will need a copy of the title and registration.
Creditor/Lessor notarized statement
If the vehicle is currently financed or leased, bring a notarized statement from the customers creditor or lessor that the creditor or lessor is aware that the customers vehicle is being shipped.
If the person shipping/receiving the vehicle is other than the owner, N-Motion Auto Transport requires a notarized letter of authorization from the owner.
In order to pick up the car, the customer (or anyone the customer designates) must furnish a photo ID.
For Vehicles shipped from Hawaii
If the customer is shipping a vehicle from Hawaii and there is co-ownership of the vehicle, both owners must be present when vehicle is delivered to N-Motion Auto Transport. If only one owner is present, a notarized letter is required from the absent co-owner authorizing the shipment.
All vehicles are subject to delayed shipment in the event of a full ship environment and could be assigned to a ship leaving later than the requested sailing date.
Prepare your vehicle for shipment:

If the customer is shipping a vehicle, radiators and batteries must be adequately protected from freezing.
Since gasoline is flammable, we require that the tank be no more than one-fourth full. Leave only enough gas in the tank to drive to a service station at destination. Vehicles with propane tanks or diesel fuel require special handling.
Don't Pack Anything in the Vehicle
No personal items, luggage or boxes may be shipped inside the passenger area or trunk. An infant car seat and spare tire with jack are considered to be integral parts of the vehicle, so they may be included. The customer will be asked to remove anything that is not permanently mounted or bolted to the vehicle.
Don't Pack Firearms or Fire Extinguishers
No firearms, ammunition of any type or fire extinguishers may be shipped in a vehicle.
Vehicle alarm systems must be disconnected before a vehicle may be shipped.
The customers vehicle must be in safe operating condition with inflated tires, fully operational brakes, transmission and steering. All vehicles will be inspected upon delivery to N-Motion Auto Transport. If a vehicle is not in safe operating condition, it will not be accepted for shipment.
Required Ground Clearance
All vehicles must have six inches of ground clearance in order to be shipped.
1-855-407-4160
http://www.NMotionAutoTransport.com