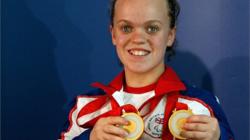 We are able today to confirm that our goal of holding second place in the Paralympic medal table at our home Games remains on track, in line with our intentions set out back in 2006 when extra funding for Olympic and Paralympic sport was secured
(PRWEB) August 18, 2012
Great Britain's Paralympic team has set a target of finishing second in the medal table at London 2012, with a total of at least 103 medals from a minimum of 12 sports.
UK Sport, the government's organisation responsible for sport development, said on Friday that ParalympicsGB has a "tough act to follow" after the Olympic team finished third in the table with 65 medals.
Britain has finished second in the medal table at the last three Paralympics. The team won 102 medals in Beijing four years ago in 11 sports.
"British Paralympic sport is better-resourced, and in a stronger position than ever before," said Baroness Sue Campbell CBE, Chair of UK Sport.
"We are able today to confirm that our goal of holding second place in the Paralympic medal table at our home Games remains on track, in line with our intentions set out back in 2006 when extra funding for Olympic and Paralympic sport was secured."
Britain's Paralympic campaign has been backed by more than £49m of UK Sport funding from the National Lottery, Government Exchequer and Team 2012.
The British team will be backed by unprecedented crowds at London 2012. A record 2.2 million tickets have already been sold, with demand increasing following the success of the Olympics. A further 40,000 tickets were put on sale on Thursday, with further releases expected.
Channel 4 will begin broadcasting more than 400 hours of live action with the opening ceremony on Wednesday 29 August, presented by Jon Snow.