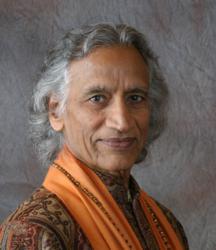 "Communicate to the world what you love most. Let go of your fear." - Yogi Amrit Desai
Salt Springs, FL (PRWEB) August 20, 2012
Yogi Amrit Desai, fondly known as Gurudev Shri Amritji, will celebrate 50 years of teaching and service to the world at his gala 80th birthday event. The celebration takes place October 19-21 at the Marriott Hotel in Jacksonville, FL. The star-studded weekend is open to students of all yoga schools and Ayurveda. Special guest appearances include yoga luminaries Panache Desai, Mickey Singer and ecstatic chanting with members of Mayapuri Kirtan.
Information at http://www.amrityoga.org
Yogi Desai remains the only living guru from the wave of great yogis who came to the U.S. in the 1960s to share the gifts of yoga and meditation An internationally recognized authority on yoga and holistic living, Yogi Desai's incomparable contribution has changed the accessibility of yoga in the U.S. Hundreds of thousands of people around the world have learned to teach and practice yoga; meditate and pursue their spiritual development as a result of his revolutionary teachings.
Mickey Singer, a featured guest on the Oprah Winfrey Network program, "Super Soul Sunday" (Aug. 3, 2012), writes "I have known Amrit Desai for more than 35 years. There is simply no way to write about such a special human being in just a few paragraphs, other than what a blessing he has been to my life." Yogi Desai's daughter, Kamini Desai, PhD, Director of Education at the Amrit Yoga Institute, will receive a distinguished award recognizing her unique service to countless students and the lineage
In the late 1970s, Yogi Desai brought his guru Swami Kripalvanandji, to the U.S from India. A few years later, he founded his third ashram, the Kripalu Center for Yoga and Health, which became the largest of its kind in North America. He continues to teach the most profound and spiritual aspects of yoga for personal and global transformation. The non-profit Amrit Yoga Institute offers year-round workshops and certified trainings in Yoga, Yoga Nidra and Ayurveda.
Yogi Desai is the author of numerous books, CDs and DVDs and frequently contributes at conferences with peers, including Deepak Chopra. He has been repeatedly honored in the U.S. and abroad, earning the rare Vishwa Yoga Ratna, awarded by the President of India.
Celebrate and reunite with fellow devotees to rejoice in the gifts of the guru. Event location is the Jacksonville Marriott at 4670 Salisbury Road, Jacksonville, FL 32256. The $495 cost includes a Gala Dinner and closing brunch. Reserve early as space is limited; online at http://www.AmritYoga.org. Discount rooms are available, 800-962-9786, mention Amrit Yoga Event.