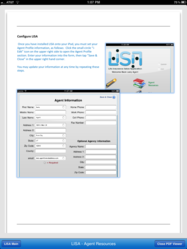 Park City, UT (PRWEB) August 20, 2012
Insurance Insight Group unveiled its LISA iPad App. LISA stands for Life Insurance Sales Application. LISA is an iPad app that captures an applicant's signature directly on the application and can transmit policy data to the insurance carrier. LISA can be utilized for just about any type of insurance sale and can assist a producer with education, point-of-sale, taking the application, and submission.
"LISA presents an opportunity for insurance companies and Insurance Marketing Organizations (IMOs) to deliver a valuable tool to producer's hands quickly," noted Mark T. Stone, Principal and Chief Marketing Strategist of IIG. "We developed LISA with the insurance industry in mind rather than individual companies because we believe it has value across multiple disciplines and platforms. LISA can increase training, sales, and accuracy for any insurance company by providing knowledge and confidence to the agent and properly completed applications to the carrier – every time," continued Stone.
Given LISA's out-of-the box availability, a company can have LISA in place in as little as 30-60 days. A video overview of LISA is available here http://youtu.be/rwWCWmjvnTg.
The benefits of an app like LISA will surely appeal to insurance professionals looking to increase accuracy and sales while reducing costs and compliance issues. Benefits include the ability to provide unique sales training, enhance product knowledge, eliminate incomplete applications, reduce processing time and expenses, and the ability to capture signatures directly on an insurance application through the app.
LISA can also transfer all data captured in the sales process directly to insurance carrier and IMO new business and management systems, More information can be found at http://www.WriteWithLISA.com.
More about Insurance Insight Group (IIG):
Insurance Insight Group is a group of creative, experienced insurance marketing people focused on providing solutions for improved recruiting, training, sales and marketing strategies. IIG's clients include insurance companies, insurance marketing organizations and other companies within the financial industry. For more information, contact Mark Stone at Insurance Insight Group at 801-290-3333 or mark(dot)stone(at)iigsolutions(dot)com.