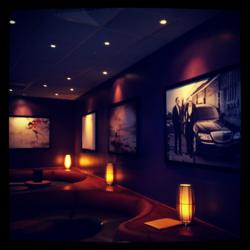 Frames Bowling Lounge anticipates record attendance at "No Strings Attached" bikini bowl, what is sure to become an annual bash to properly bid farewell to a rocking NYC summer at the venue.
New York, NY (PRWEB) August 21, 2012
Frames Bowling Lounge, a NYC bowling lounge located near Times Square, announced today it will feature MTV and VH1 DJ Amanda Seales at its "No Strings Attached" Bikini Bowling Extravaganza. The NYC bowling event will also feature international swimsuit models and an on-site spray tanning for all its guests, courtesy of Beach Bum Tanning.
The Bikini Bowling Extravaganza will take place at Frames Bowling Lounge on Saturday, August 25, 2012 from 8:00PM to 1:00 AM. The NYC bowling event encourages all attendees and bowlers to dress in beachwear, bathing suits and board shorts.
The headlining performer at the NYC bowling event will be DJ Amanda Seales. Ms. Seales has done commentaries for several VH1 specials. She is also featured on Johnny Polygon's 2010 mixtape, Rebel Without Applause, on two songs entitled "Blvd Broad" and "Get Right".
In addition to Mrs. Seales, Ryan Grant, an NFL running back who was originally signed by the New York Giants and now plays for the Green Bay Packers, is expected to attend the Bikini Bowling Extravaganza. The Super Bowl XLV champion could potentially bowl a perfect 300 while attending the NYC Bowling Event.
Frames Bowling Lounge has allotted five hundred ($500.00) dollars in cash and prizes to be awarded to the bowler wearing the hottest beach-inspired outfit on the night of the NYC bowling event. Two well know International Swimsuit models will will help judge the beachwear and bikini costume contest.
"A unique bowling experience like this can only happen once a year," commented Frayda Resnick, Frames Bowling Lounge's Marketing Manager. "Anticipation has been building for the "No Strings Attached" Bikini Bowl. We urge all who want to bid farewell to summer in style to RSVP for this beach bowling event immediately before it sells out," she added.
Due to limited availability, Frames Bowling Lounge has stated that all guests must RSVP by emailing social@framesnyc.com. For VIP Bowlers, there will be a VIP option to attend the NYC Bowling event in luxe style. VIP admission will include a glass of champagne and VIP seating in the lounge adjacent to the DJ booth.
FRAMES is a NYC Bowling Lounge located on 9th Avenue at 40th Street. It features a gracious lounge, 2 bars, a restaurant and 28 Bowling Lanes; 2 with VIP access. The NYC Bowling Lounge has a modern, luxurious vibe, and is considered the ultimate spot in nightlife and bowling entertainment. To find out more about Frames Bowling Lounge visit http://www.framesnyc.com.