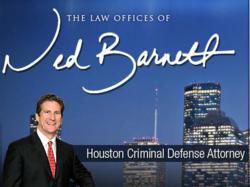 Houston, TX (PRWEB) August 17, 2012
Ned Barnett, a top-notch criminal defense attorney serving clients in Houston, Texas, has been named in the "Top 100 Trial Lawyers for 2012 by the American Trial Lawyers Association." This is the fourth consecutive year the Mr. Barnett has achieved this ranking and is proud of his reputation as an exemplary defense litigator. His inclusion in this list is a reflection of Mr. Barnett's dedication to giving clients the best legal representation he can offer. Whether standing up for the rights of a client in the courtroom or simply helping someone understand their options in a case evaluation, he is willing to go the extra mile to give clients the legal assistance they need.
Mr. Barnett's practice areas are extensive. He is well-versed in domestic violence cases, drunk driving defense, drug crimes, internet-related cases, grand jury proceedings, probation violations, sex crimes, theft crimes, violent crimes and white collar cases. As a defense attorney, Mr. Barnett is focused on the wellbeing, rights and freedom of the individuals he represents. He is Board Certified in Criminal Law by the Texas Board of Legal Specialization and a well-respected litigator in his field. Mr. Barnett has devoted all of his legal practice to litigation, focusing whole-heartedly on helping clients to the best of his ability.
After graduating with BBA from the University of Texas in Austin, he went on to earn his Juris Doctorate at the University of Houston Law Center in Houston, Texas. Since graduating law school in 1987, Mr. Barnett has dedicated himself to becoming the best litigator he can be. He is a founding member of the National College for DUI Defense, board certified in criminal law by the Texas Board of Legal Specialization, a member of the national Association of Criminal Defense lawyers, the State Bar College, the Houston Trial Lawyers Association, and the supporting member of the National Child Abuse Defense Center.
He has worked at the United States Attorney's Office in Houston as an assistant United States attorney and at the Galveston County Criminal district Attorney's Office. Mr. Barnett comes from a tradition of criminal defense litigators. His father, grandfathers and great-grandfather were defense attorneys before him and he has earned the respect of his legal peers by carrying on the tradition of high-quality defense representation that came before him. To learn more about Mr. Barnett and his legal practice, visit http://www.NedBarnettLaw.com.