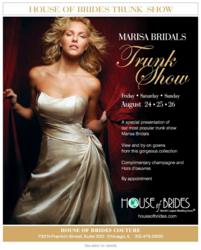 House of Brides President Eva Buziecki made this statement: "Tamara Kristen, designer of Marisa Bridals creates styles of timeless elegance. The gowns have an urban sophistication."
Chicago, IL (PRWEB) August 20, 2012
House of Brides announced their next trunk show as featuring designer Marisa Bridals. The trunk show starts on Friday, August 24th through Sunday, August 26th. House of Brides Couture will host the event at 730 North Franklin Street in the River North neighborhood of Chicago.
Marisa Bridals is among the best-selling bridal collections at the Chicago salon. The gowns are so in demand that the salon very often attracts customers who travel from out-of-state just to try-on and purchase a Marisa style.
House of Brides President Eva Buziecki made this statement: "Tamara Kristen, designer of Marisa Bridals creates styles of timeless elegance. The gowns have an urban sophistication."
The Marisa Bridals collection consistently features simple styles with touches of crystal beading, sequins and other embellishments. The emphasis is put on the cut of the gown, forming styles that are very flattering on every body shape. The 2012 collection on display will continue with the designer's tradition of styling.
The gown featured in the ad is a Silk Satin strapless dress with a modified sweetheart neckline. The crystal brooch at the hip is an example of the subtle touches designer Tamara Kristen adds.
Because Marisa Bridals is among the most popular designer at House of Brides Couture, the retailer requires appointments as they book up quickly. Expert staff will assist in the selection of the gown and provide specialized advice on the collection. Customers can expect to receive exclusive savings during the event.
Designers and retailers use trunk shows to preview and feature a collection. The term "trunk show" was coined from designers transporting their bridal gown samples in steamer trunks to studios.
The Marisa Bridals Trunk Show is Friday, August 24th, Saturday, August 25th and Sunday, August 26th. The event is available at House of Brides Couture in Chicago. To make an appointment at the salon, call (312)475-0500.
To view the Marisa Bridals Trunk Show ad and to see other upcoming Trunk Shows, go to http://www.houseofbrides.com/TrunkShows.aspx.
About House of Brides:
House of Brides established its first brick-and-mortar store in 1929 and has since grown to 10 Chicagoland stores and global E-Commerce website, http://www.houseofbrides.com. Millions of Brides and their wedding parties visit our salons and global website for over 37,000 wedding and special event products.