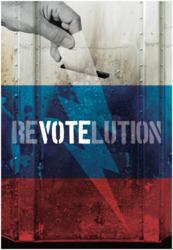 The artists in this exhibition have demonstrated something that the unresolved political situation in Russia reminds us of daily: that the diversity of human expression is ultimately stronger than the oppressive uniformity.
New York, NY (PRWEB) August 20, 2012
"SVA has a long tradition of supporting freedom of speech and voting rights through its exhibition program. It is important for Russia to have elections, but it is also necessary for Americans to understand the political context in which they are held. This exhibition asks the question 'Does my vote count?,' which opens doors that are too often shut," says exhibition co-curator Steven Heller.
"Although some of the most effective political agitation of the 20th century took place in Russia, and perhaps precisely because of it, the Russian public is weary of revolutions and revolutionary rhetoric," says exhibition co-curator Misha Beletsky. "This leaves the would-be revolutionaries of today in a precarious position of opposition to the regime with no clear means of dissent."
Designers who responded to the call for entries for "Russia Rising" faced a similar challenge. Today's Russia doesn't fit into any visual clichés like the red banner or hammer and sickle. Pre-1917 czarist symbols such as the two-headed eagle and the tricolor, once viewed as "radical," have come to symbolize the current regime. The often depicted Russian bear is now a mascot of Putin's United Russia party.
Designer Woody Pirtle's poster features brass knuckles that look very similar to a bear's claw. Oil leaks out of a tricolor faceless Russian nesting doll on a poster created by Dimon Zakharov. SVA faculty member Viktor Koen contributes a poster reminiscent of former U.S. presidential candidate Ron Paul's ReLOVEution graphic; the word ReVOTElution is superimposed over a hand placing a paper into a ballet box.
A bear kicks a caricature of Russian President Vladimir Putin out on Robert Grossman's poster, which also includes the words "Takeout Putin." The Bukheyevs' Election Circus has the imperial two-headed eagle, juggling black and white balls in a circle to symbolize the contested elections. Eugeny Dobrovinsky's Russian Chronology starts with "2010 ten" and continues, "2011 eleven," "2012 twelve," "2013 puteen," "2014 puteen," into infinity.
"It has become very difficult to say 'Russia' visually without becoming embroiled in complicated political issues. The artists in the exhibition have navigated these murky contextual waters with great skill," says Beletsky. "They have demonstrated something that the unresolved political situation in Russia reminds us of daily: that the diversity of human expression is ultimately stronger than the oppressive uniformity."
Participating artists include R. O. Blechman, The Bukheyevs (S. Bulkin & E. Mikheyeva), Savas Cekic, Cybersect, Maxim Derevyankin, Eugeny Dobrovinsky, Lex Drewinski, Stasys Eidrigevicius, Alexander Faldin, Kevin Finn, Emily Firebaugh, Robert Grossman, Hilppa Hyrkäs, Allison Hefely, Viktor Koen, Boris Kulikov, Yossi Lemel, Alain Le Quernec, Uwe Loesch, Alexandria Lopresti, Alexey Lysogorov, Ilya Pereverzentsev, Kari Piippo, Woody Pirtle, Joe Scorsone & Alice Drueding, Eugeniusz Skorwider, Lanny Sommese, Alexander Umyarov, Derek Vander Griend and Dimon Zakharov.
"Russia Rising: Votes for Freedom" is organized in conjunction with the Golden Bee Global Biennale in Moscow and Serge Serov, Biennale president. The exhibition's graphic identity was created by Maria Romanova-Permyakova.
The Westside Gallery, located at 141 West 21 Street between 6th and 7th Avenues, is open Monday through Friday, 9am to 7pm; Saturday, 10am to 6 pm; closed on Sundays and public holidays, including September 16-18 for Rosh Hashanah. Admission is free. The gallery is accessible by wheelchair. For further information call 212.592.2145.
School of Visual Arts (SVA) in New York City is an established leader and innovator in the education of artists. From its inception in 1947, the faculty has been comprised of professionals working in the arts and art-related fields. SVA provides an environment that nurtures creativity, inventiveness and experimentation, enabling students to develop a strong sense of identity and a clear direction of purpose.