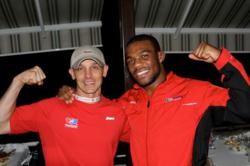 "What we've been able to do in our clinics for everyone from small children to everyday parents and grandparents through the 5 Essentials of Maximized Living has been so powerful, said Dr. Ben Lerner, co-founder of Maximized Living
Orlando, FL (PRWEB) August 20, 2012
USA Wrestling, whose official team chiropractors are Maximized Living doctors, now features an internationally undefeated gold medalist intent on becoming the greatest wrestler the world has ever seen.
Jordan Burroughs has lived up to his Twitter-handle hype. The man who Tweets under the moniker "alliseeisgold" has earned it. The reigning world champion freestyle wrestler in the 74-kilogram (163-lbs.) weight class, he has extended his international win streak to 34-0 en route to capturing an Olympic gold medal.
"I've been waiting for this moment—this opportunity—for a long time, and to actually get it done and finally be here is pretty cool," Burroughs said in an interview with NBC.
In the gold medal match, he faced Iranian wrestler Sadegh Goudarszi, the same man he defeated to win the 2011 World Championships in Istanbul, Turkey. Burroughs handily won 2-0 to capture the gold.
His last loss came in December 2009, while he was still competing for the University of Nebraska. He tore two knee ligaments in the match's first period, but somehow finished the match to lose 3-2. Maximized Living's care plans are designed specifically to reduce the risk of injury while simultaneously improving an athlete's performance.
Since the loss, Burroughs has transitioned seamlessly from collegiate to international wrestling—there are slight differences in scoring and technique—but has shown no need for a period of adjustment. He has been dominant throughout, building upon the two NCAA championships he earned at Nebraska.
Despite winning gold, his craving for gold has not subsided. Burroughs, who admits he's afraid of getting punched in the face, intends to continue battling until he becomes the most dominant wrestler in world history.
"What we've been able to do in our clinics for everyone from small children to everyday parents and grandparents through the 5 Essentials of Maximized Living has been so powerful, the world's most elite athletes wanted it to give them their best chance to make their respective US national teams or even win a medal," said Dr. Ben Lerner, co-founder of Maximized Living and former All-American wrestler.
Burroughs is also looking forward with high hopes. "I'm only 24—still young, still got a couple Olympic Games in me," Burroughs said. "I'm excited about what I've accomplished today and what I can in the future."
About Maximized Living
Maximized Living is a comprehensive health delivery system. It's a complete system for living utilized by a network of hundreds of Chiropractors and associated health care leaders. These doctors incorporate the 5 Essentials™ to identify root causes of health issues, remove interference and allow patients to build health, rather than mask or treat problems with medications and surgery.
http://www.maximizedliving.com
For additional information, contact:
Evette Rivera, Director of Marketing
Maximized Living, Inc.
1420 Celebration Blvd, Suite 200
Celebration, FL 34747
321-939-3044
erivera(at)maximizedliving(dot)com