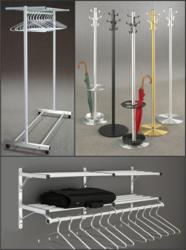 All of Glaro's new products are in stock and ready for immediate shipment
Hauppauge, NY (PRWEB) August 23, 2012
Glaro Inc., a leading American manufacturer of commercial and consumer steel and aluminum products has bulked up its stock of coat and coat hanging equipment that ship within 1-3 days of order in preparation for the fall and winter season ahead.
Glaro Inc., which has designed and manufactured innovative products for almost 70 years, now offers coat hanging equipment such as wall mounted coat racks in duotone color combinations such as sleek Satin Aluminum with Satin Black. For owners and building managers, wall mounted coat racks and matching wall mounted aluminum shelving have become integral to keeping facilities neat, clean, and safe in a decorative manner. Shelves can be mounted above or below or in several tiers of shelves on the wall to maximize storage capacity. "It's about optimizing vertical space" commented Executive Vice President Robert Betensky. In combination with placing shelving racks above the coat hanging racks at any level on a wall, the products help to de-clutter spaces and improve storage capacity as well as accessibility to, for example, children in school environments. According to the company, their wall mounted coat racks are also more economical than many other similar products on the market and are easier to assemble and mount.
In fact, for decades, Glaro Inc. has been known for their customer-focused products. Executive Vice President, Robert Betensky commented, "You can customize the length of our wall mounted coat racks to accommodate any space. It's up to our customers to decide according to their needs." Glaro coat racks are designed in 6" modular units that can be combined. "Even a museum with large loads of tourists can easily outfit their lobby coat rooms with the racks to any specifications. The same is true for schools, gyms, hospitals, locker rooms, class rooms, and offices" mentioned Mr. Betensky.
In the floor standing category, Glaro Incorporated is also manufacturing coat trees and combo coat trees with umbrella stands. Some models have hooks and others have a hang bar to accommodate coat hangers. They are also now available in duo color combinations for the first time. The floor standing coat trees are ideal for facilities as cooler, rainy weather approaches because they require no installation; they are portable; they fit into corners and between chairs; and, they work very well in smaller spaces or when closet space is minimal. They also do not require one to put a wet coat into a closet with other dry coats. According to Mr. Betensky, "We have stood behind this unique product line as it has grown since the mid 20th century. Glaro was actually the first manufacturer of coat trees after World War II utilizing aluminum tubing rather than wood thereby opening up a new opportunity for unlimited finishes and designs."
For more information on Glaro Inc., please visit glaro.com.
About Glaro:
Glaro, Inc. (glaro.com) is a leading USA manufacturer of commercial and consumer steel and aluminum products sold through dealers for close to 70 years. All products ship in 1 to 3 days. Glaro products are the result of a focus on thoughtful innovation and design. Product lines include bellman carts, metal waste receptacles, recycling receptacles, smokers' posts and receptacles, crowd control posts and systems, sign frames, and directories, coat hanging equipment, umbrella stands, wet umbrella bag holders, planters, and key drop boxes. A diverse selection of models in 31 finishes is produced in the Hauppauge, New York plant by skilled Glaro craftsmen. The company is known for its quality merchandise and its ability to consistently quick ship all products. The customer service department provides unusually prompt personal service and is sensitive to the needs of dealers.