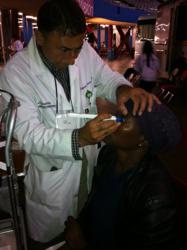 We must help the citizens of Los Angeles strive for brighter futures and bigger dreams, and Oscar's foundation offers hope and medical care to those most deserving
Los Angeles, CA (PRWEB) August 20, 2012
This upcoming Monday, August 20th will mark the annual Oscar De La Hoya celebrity golf Classic. This annual golf classic is a remarkable event attended by many, including Los Angeles' very own Lasik specialist Dr. Rajesh Khanna. The event is hosted by Oscar De La Hoya, in an effort to benefit his noteworthy foundation. The foundation first began in 1995, with the hopes of helping Los Angeles residents lead a more productive and manageable lifestyle. By providing Los Angeles locals the services they so desperately need, Oscar has helped countless individuals over the years. The foundation has a broad range of medical and educational enterprises that all strive improve the quality of life for the less fortunate.
Dr. Rajesh Khanna a fellow Los Angeles local knows the struggles that many young people face in this economy. Khanna has been a supporter of Oscar's foundation for the past several years and sees the impact it has made of the lives of many. With charitable surgeries and community outreach of his own, Dr. Khanna aims to do his part and contribute to the well-being of Los Angeles citizens, and attending Oscar's Golf Classic is a another way to show support toward a wonderful cause.
As a corneal specialist Dr. Khanna has attempted to treat vision in a variety of individuals, and has even operated on legally blind patients. Receiving adequate medical care can not be stressed enough, and as an authority in the ophthalmology community, Dr. Khanna has seen what patients have to endure due to lack of resources, insurance, or quality medical care.
Oscar's foundation has a plethora of ventures including; a state-of-the-art cancer center, a charter high school, a labor and delivery center and a neonatal intensive care unit. In addition to providing medical services Oscar's foundation is committed to lowering gang activity, juvenile delinquency, and substance abuse, by offering academic scholarships, educational programs, and fundraising events such as this celebrity golf classic. It is thru all of these undertakings that Oscar aims to help the community and its underprivileged citizens get the care they need, and the opportunity to thrive. Oscar's immense passion for his foundation comes from the struggles he experienced as a young adult.
Dr. Rajesh Khanna has traveled globally and seen the horrors experienced by the youth in third world countries, as well as in our own backyard Los Angeles. Dr. Khanna shares this passion for America's youth and hopes to heed the struggles faced by impoverished Americans. Dr. Khanna looks forward to Oscar's event and supports him in all his endeavors. "We must help the citizens of Los Angeles strive for brighter futures and bigger dreams, and Oscar's foundation offers hope and medical care to those most deserving."
Khanna can be reached by phone at 1-877-2-KHANNA or via email with the convenient form on the website. For more information, visit the website at http://www.khannainstitute.com.
ABOUT RAJESH KHANNA:
Dr. Rajesh Khanna is an internationally recognized LASIK and refractive vision care specialist. He graduated among the top of his class in medical school and is a member of the UCLA faculty. Utilizing his skills to instruct a new generation of eye surgeons on the safest and most effective techniques and procedures, he pioneered many of today's techniques in LASIK and refractive surgery. Khanna invented a variety of instruments to aid in surgeries and speaks at a myriad of national and international professional venues each year. He participates in refractive surgery conferences and wet labs worldwide. Featured extensively in print and broadcast media, he's received prestigious awards and honors from the World Health Organization. He's a member of the American Medical Association, the prestigious American Academy of Ophthalmology and the American Society of Cataract and Refractive Surgery, and certified by the American Board of Ophthalmology.