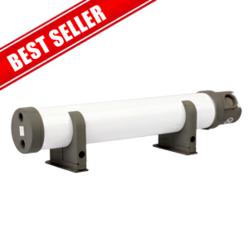 Products You Can Count On From People Who Care
North Yorkshire, UK (PRWEB UK) 20 August 2012
Cnmonline UK store introduces an exceptional range of tube heaters which can be virtually placed in areas like cloakrooms, offices, greenhouses, garages, lofts, conservatories, sheds, boats, spare rooms, villa's, toiletes, wardrobes, caravans, pet enclosures, porches and utility room. The store offers medium range and high range brands in tubular heaters that are highly versatile and fitted in the brackets which can be floor mounted or the wall. These Tubular heaters can supplement the current commercial or domestic heating systems by offering the perfect economical source for frost protection and additional heat of water pipes and the window de-misters.
Cnmonline UK store offers waterproof Tubular heaters to IP54 which are very light in weight and ideal to have the stud walls which virtually should be fitted anywhere around the buildings. These Tubular heaters can be ideally used in conjunction along a thermostat. These heaters have great designs which compliment most contemporary homes and bathrooms.
A senior official from the store said, " We also have a new range of tubular heater that have an inbuilt thermotat first of its kind, these tubular heaters are very well made and extremely versatile complete with floor / wall mounted brackets They also come with pre fitted cable and 3 pin UK plug. We also offer the multiple installation interlinking kits available for all other tubular heaters available. The loadings of the heaters from our branded products will ensure energy efficiency whilst giving maximum heat output. These heaters can be pre fitted with electrical cable and 3 pin plugs available at various lengths from stock. Our tubular heating fittings stand out because the maximum projection is 75mm (2.95"). Safety, our tubular heaters offer automatic over temperature cut-out, that is inbuilt and self resetting".
Cnmonline UK store services are well known across the nation because of the high end durable products. This has even made the customers built-in trust forever. The heater's installation options vary from that of wall mounted heater units though they appear similar to the baseboard models. Heat exchangers have the steam pipes that follows the baseboard.
Further in talks with the store official, he further said, "that the mounting brackets are universal for wall and floor fixing. The tubular heating fittings offered by the store are very safe and cost effective when compared with other online electric stores".
For more details on convection heaters, visit http://www.cnmonline.co.uk
About CNM Online UK:
CNM Online is leading supplier of electrical components in the UK. They offer excellent quality standard electrical devices from low, medium and high range, keeping in mind an average and well paying customers.