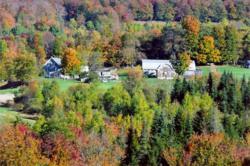 When you create something truly special, such as this writer's colony, you want to share it with the world
Rochester, VT (PRWEB) August 20, 2012
Normally, a sweepstakes selects a single grand-prize winner … along with a slew of runners up. But planners of the When Words Count Retreat's Grand Opening Giveaway appear to have gotten it all wrong. Their writer's retreat sweepstakes, which begins today and runs through August 31st, will pick not one, but 50, published authors as grand-prize winners. And each author will receive a free, three-day stay at the writing retreat, at the very peak of the fall foliage season.
"When you create something truly special, which we believe we have in this writer's colony," Steve Eisner, the retreat's founder and CEO says, "you want to share it with the world. But we're a small operation, with just enough rooms to accommodate eight authors at a time. So, 'the world' was clearly out of the question."
The solution, he says, was to celebrate the retreat's October 1 grand opening with a contest that thousands of U.S. and Canadian authors can enter and in which they all will enjoy a better-than-average chance of winning. "We want to expose as many authors as possible to the retreat and to Vermont's dazzling fall leaf display," Eisner says. (Each Grand Prize package has an average retail value of $278.50.)
Eisner, author of the IPPY Award-winning contemporary novel, The MineFields, frequented several Vermont sites, including an Inn at the retreat's new home at Mountain View Farms, when he was working on his book. "Our goal was to create a warm, carefree place for serious authors, who want to 'get away' in order to work productively on their books. We also have developed an advanced writer's workshop that helps authors make rapid progress on readying their books for publication."
To help authors focus on their writing, the retreat also offers an optional daily meal service not included in the sweepstakes prize package. The food service features "Vermont, gourmet Bistro-style" food (translation: tasty, but healthful, dishes), prepared, on site each day, by the retreat's chef. (The meal service, which is priced at just $50 per person per day, includes breakfast, lunch and dinner.)
Authors, 18 years of age or older, who have published at least one book and are currently working on another, are eligible to enter the sweepstakes. "By 'published,'" Jon Reisfeld, the retreat's general manager, says, "we mean self-published, indie published or traditionally published authors. Their books can be either fiction or non-fiction and can be produced in any format: hardcover, paperback or eBook."
Each winner is free to bring a guest, he adds. (Most rooms can comfortably accommodate two people.) "Be sure to tell all your writer friends about the Sweepstakes," he explains. "That way, if they win, and you don't, you still might make it up here as a guest!"
Authors interested in entering the When Words Count Retreat's Grand Opening Sweepstakes will find the entry form here. To learn more about the retreat, its programs and facilities, visit its website at http://whenwordscountretreat.com .
About the company: When Words Count Retreat, in Rochester, Vermont, is a writer's retreat, set in the picturesque hollows of the Green Mountains. The retreat is located at Mountain View Farms, a former working farm that served, for decades, as a successful country inn. Since acquiring the property, in April, 2012, When Words Count Retreat has fully remodeled and modernized the building and a separate chalet. Authors Steve Eisner, the retreat's CEO and Jon Reisfeld, its General Manager, provide extensive author coaching services and run an innovative, advanced writer's workshop that helps authors rapidly develop their book concepts and manuscripts for publication.