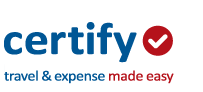 5,000 business travel reviews are added per month to the Certify Spend Smart system
Portland, ME (PRWEB) August 21, 2012
Certify, a leading online travel and expense management company, today announced the 50,000th business travel review entered into the Certify Spend Smart™ Rating and Review system. This milestone for Certify signifies the importance of business travel reviews and successful user adoption of this powerful tool.
The Certify Spend Smart™ solution was introduced to Certify users in January of 2011, enabling a system where business travelers can easily identify and promote their favorite T&E vendors, sharing feedback with their peers, colleagues and personal networks. The system allows users to rank vendors using a simple 1 through 5 star rating as well as add comments and reviews.
A unique aspect of this program is the ability for Travel Managers to see both qualitative and quantitative data on their selected corporate travel vendors. Not only can the Travel Manager see the average nightly rate charged by a hotel provider, they can also review the traveler's experience in staying at this hotel as compared to other hotel providers. This can become highly relevant information as part of an annual travel vendor review process.
Since the launch of the service, over 50,000 reviews have been entered, with over 5,000 reviews being added per month. Certify Spend Smart™ Ratings and Reviews are available to the public to view. To view the latest ratings visit: http://www.certify.com/RateReview.aspx.
About Certify
Certify is the leading online travel and expense management solution for companies of all sizes. Organizations worldwide book travel and complete expense reports quickly, easily, and cost effectively using our mobile applications and web based technology.
For more information about Certify please call 207.773.6100 or visit http://www.Certify.com.