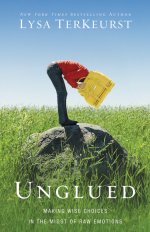 Los Angeles, Calif. (PRWEB) August 17, 2012
Having held strong on the New York Times Best Seller list for 30 weeks for her most recent title Made to Crave, Lysa TerKeurst tops the list again this week, with her new release, UNGLUED - Making Wise Choices in the Midst of Raw Emotions. Published on August 7, UNGLUED debuted on the New York Times No. 8 bestsellers slot and garnered a strong foothold on retail websites such as Amazon and Barnes & Noble. UNGLUED reached No. 5 on Amazon's Top 100 Best Selling Books and currently holds the No. 1 slot as the top selling book on both the Religion & Spirituality and Christian Books & Bibles charts while debuting at No. 8 on the Barnes & Noble (BN.com) chart.
"The early accolades and achievements for UNGLUED are thrilling," said Don Gates, vice president of marketing at Zondervan. "This is a clear indication that Lysa has connected with women across the nation. It is no surprise that her clever insights and personal anecdotes in UNGLUED are resonating."
Distributed nationwide by Zondervan, UNGLUED debunks the age-old excuse that women are 'just emotional creatures' by urging them to understand that "emotions are good indicators, not dictators." By using personal testimonials of her own life, TerKeurst explores the raw emotions that women hide from others but spew on those they love the most. While the reactions can be equally as damaging, TerKeurst explains that the key is being in the middle: honesty that results in soul integrity. Throughout the book, she continues to provide honest insight on how to confront these issues and overcome the struggles of emotions.
"I am incredibly honored to know enough readers are connecting with the message of UNGLUED that it hit the NY Times list release week," says TerKeurst. "I think women were ready for someone to honestly and vulnerably address how stinkin' hard moments of conflict are. I'm not the hero of this book. I'm just a girlfriend who's learned some spiritual and emotional strategies that help us make wiser choices in the midst of those raw emotions."
To coincide with the success of her latest book, TerKeurst will be conducting her worldwide premiere UNGLUED free webcast on August 23rd at 8 p.m. EDT. Audiences will have the ability to hear a special message from TerKeurst herself, in addition to an opportunity to join the simulcast themselves for live interaction. TerKeurst is currently enlisting fan participation by urging them submit questions via e-mail and video pertaining to UNGLUED (http://lysaterkeurst.com/). Questions and video content will be chosen at random and fans will be featured alongside TerKeurst during the live webcast.
The upward climb follows a week extensive media opportunities for TerKeurst who has participated in numerous broadcast and print interviews. TerKeurst will continue to promote UNGLUED as she embarks on a cross-country tour in over seventeen cities through December, sharing her timely message with the masses. To access TerKeurst's speaking schedule please visit http://lysaterkeurst.com/speaking-schedule/.
For more information on UNGLUED and Lysa TerKeurst, please visit http://www.lysaterkeurst.com/.
UNGLUED: Making Wise Choices in the Midst of Raw Emotions
9780310332794
$14.99/$16.49 Can./£9.99 UK
Paperback / softback
192 pages
Ages 18 to 99
About Zondervan
Zondervan is the world's leading Christian publisher of books whose authors are noted for their excellence in the craft of writing as well as their worthy contribution to the ongoing global evangelical conversation. The works published by Zondervan not only confirm readers' faith and understanding, they also challenge and stretch readers' thinking. For more than 75 years, Zondervan has delivered transformational Christian experiences through general, ministry and academic resources by influential leaders and emerging voices, and has been honored with more Christian Book Awards than any other publisher. Headquartered in Grand Rapids, Mich., Zondervan publishes bestselling books, audio, video, curriculum, software and digital products in such categories as biblical languages and studies, biography, business, contemporary issues, counseling, cultural, devotional, evangelism, family, fiction, history, inspiration, leadership, ministry, pastoral, personal development, prayer, philosophy, reference, relationships, textbooks, theology, youth and more. Zondervan resources are sold worldwide through retail stores, online, and by Zondervan ChurchSource, and are translated into nearly 200 languages in more than 60 countries. Visit Zondervan Books on the Internet at http://www.zondervan.com/books.
About Lysa TerKeurst
Lysa TerKeurst is the president of Proverbs 31 Ministries and the author of fifteen books, including New York Times bestseller Made to Crave. She has told her remarkable life story on national television and radio, including Oprah and Good Morning America. She lives in North Carolina with her husband and five children (http://www.lysaterkeurst.com).
###