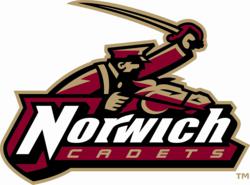 Northfield, VT (PRWEB) August 17, 2012
Three members of the Norwich University football team have been named to the 20th Annual USA College Football Inc. preseason teams, as announced by the organization on Friday afternoon.
Senior defensive lineman Matt Simonelli (Scituate, R.I.) has been named an All-American Third Team preseason selection, while also being named to the All-Region team alongside offensive linemen Matt Gallagher (Morris Plains, N.Y.) and Sean Southworth (Exeter, N.H.).
Simonelli saw action in nine games for the Cadets last season and contributed a team second-best 54.5 tackles, including 44 solo tackles. He also totaled eight tackles-for-loss and three pass deflections on the season.
Gallagher and Southworth are both returning to an offensive line that was responsible for aiding the Norwich offense to 25.7 points and 303.7 rushing yards per game.
The Cadets kick off the 2012 season on September 1 at 1:30 p.m. when they host Western New England in non-conference action at Sabine Field.
Norwich University is a diversified academic institution that educates traditional-age students and adults in a Corps of Cadets and as civilians. Norwich offers a broad selection of traditional and distance-learning programs culminating in Baccalaureate and Graduate Degrees. Founded in 1819 by Captain Alden Partridge of the U.S. Army, Norwich University is the oldest private military college in the United States of America and the birthplace of our nation's Reserve Officers' Training Corps (ROTC). http://www.norwich.edu