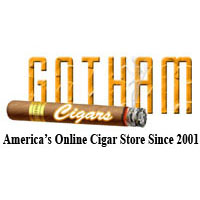 Miami, Fl. (PRWEB) August 18, 2012
After ranking #142 in Inc. Magazines 500 fastest growing companies for 2012, Gotham Cigars has taken another step in the direction to serve a larger segment of the cigar market by offering attractive discounts on highly rated cigars. They have maintained an amazing collection of the most sought after brands for cigars online. It has become evident, as per recently concluded ratings by Cigar Aficionado magazine. They have a great selection of highly sought after cigars such as Rocky Patel cigars, Black and Mild cigars, Acid cigars and many more.
President Manny Balani stated, "After getting phenomenal ratings of 90+ on our celebrated brands of cigars such as Alec Bradley Tempus, Rocky Patel Decade, Gurkha cigars, by Cigar Aficionado magazine, we are proud to announce our recognition among the Inc. 500. To celebrate such an achievement, we have announced attractive discounts on these cigars. We are encouraged by the growth we have seen in the last three years as it is a testament to challenges we have had to overcome in the industry. We believe we have only scratched the surface as far as growth is concerned for online sales of cigars. There is a much larger segment of market share which we are pursuing every day."
The Inc.500 ranking further solidifies their credibility as the ultimate online platform for cigar lovers. While offering daily deals and discounts on highly rated brands including Gurkha cigars, Arturo Fuente, and Acid cigars, they have truly stepped forward as a premiere online cigar outlet. They are the best place for purchasing cigars online. They deal directly with leading manufacturers, such as Swisher, Rocky Patel, Oliva, Drew Estate, General Cigar, and many others.
Gotham Cigars always preaches their three core principles of five star customer services, discount prices, and on time delivery. They have built their business on these 3 values and strive to provide their customers the best online shopping experience possible. They made their site easy to navigate, with a one click check out process. They are constantly doing research to improve the users experience on their site.
To find out more visit http://www.GothamCigars.com