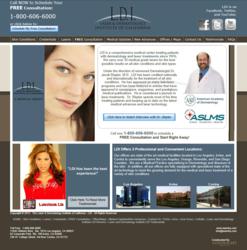 The first treatment may fade up to 84% - 96% of the tattoo and the actual treatment time is 70 to 90 minutes with only one visit*
(PRWEB) August 17, 2012
The Laser & Dermatology Institute of California (LDI) is proud to announce a revolutionary and clinically proven method to fade up to 84% - 96% of a tattoo in only just 1 visit*. Our patients are happier to make far less visits to our office for laser tattoo removal. Overall, it is a far more cost effective method than traditional or conventional laser tattoo removal.
The currently used method by most laser centers achieve only up to 18% - 32% fading of the same tattoo after the first treatment.* Usually it would take 4-6 laser treatments for amateur tattoos and up to 20 treatments for professional tattoos. Thereby, making the tattoo removal treatment inconvenient. Furthermore, a patient would normally have to wait 1-2 months for the next treatment. That would result in some patients requiring treatments for over a year to try to remove a tattoo.
LDI's method is more convenient, much faster, safe, and is clinically proven. The process leaves no scarring or textural changes. The first treatment may fade up to 84% - 96% of the tattoo and the actual treatment time is 70 to 90 minutes with only one visit. The tattoo will continue to fade over 6 to 10 weeks.
In addition, LDI uses numerous lasers to improve scars from poorly applied tattoos and scars left behind from previous tattoo removal services from other places.
About The Laser and Dermatology Institute of California:
LDI has been credited nationally and internationally for helping people of all skin tones, skin types, and age groups with laser tattoo removal. LDI is a fully equipped laser and medical center that uses all types of lasers and multiple lasers so that you can achieve your desired results. Lasers are intesnse forms of light and may be dangerous. Results may vary depending on the skill and experience of the laser operator. Under the direction of Jacob Rispler, M.D., be assured that LDI is a professional, secure, and safe medical practice for tattoo removal. Doctor Rispler is a Board Certified M.D. and a Certified Laser Surgeon. Dr. Rispler is often called on for his expertise in difficult to treat skin disorders. Doctor Rispler has dedicated over 30 years to helping people remove unwanted spots, marks, pigments, and tattoos.
LDI is always leading the way in new, safe, and clinically proven procedures for removing tattoos. By using a combination of specialized FDA approved advanced lasers and medical expertise, LDI has achieved great results in tattoo removal. LDI has been very successful because each treatment is tailored to the unique needs of every patient. LDI uses non-ablative lasers that do not break the skin. Therefore, you require no down time or recovery time for laser treatments. Patients often return to their regular activities the same day they are treated. With over 30 lasers, each designed to treat a specific condition and skin type, you can be assured that LDI is one of the very few that can honestly provide safe, cost effective, and accurate treatments.
LDI has 3 convenient locations in Los Angeles, Irvine Orange County, and Covina San Gabriel Valley.
To Schedule a Free Consultation call 1-800-606-6000
or Schedule Online at: http://www.laserhq.com/dermatology
*Results may vary for each individual and type of tattoo. Percentages are clinical averages.