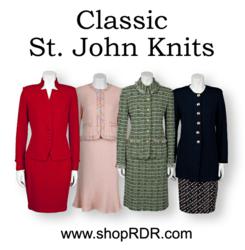 St. John now has a modern, minimalist look with a feminine finish.
Houston, TX (PRWEB) August 18, 2012
Beginning this Sunday, Rodeo Drive Resale (http://www.shopRDR.com), premier reseller of 100% authentic guaranteed handbags and fashions, will offer deep discounts on brand new St. John Knits skirt suits, jackets, tops and pant suits from the label's 2011 and 2012 collection.
Every day, lovers of authentic designer pieces such as Louis Vuitton bags, Chanel heels and Tiffany & Co. jewelry, browse ShopRDR.com for the latest deals in the land of high-end fashion and accessories. As the world's largest reseller of St. John Knits, ShopRDR.com is offering women sized L-XL and 12-16 the opportunity to attain some of the brand's most recent styles through an online-only event in which 75 pieces will be sold at a minimum of 50% off.
Raya said the label's new look offers designer lovers quality craftsmanship with a modern edge.
"The new St. John has a Burberry-meets-Gucci vibe of feminine and flowy pieces," explained ShopRDR.com co-founder Raya Jaffer. "Gone are the boutiques filled with structured primary colored knit suits with regal and iconic buttons. St. John now has a modern, minimalist look with a feminine finish."
In addition to their popular lineup of St. John Knits items, ShopRDR.com offers luxury lovers the opportunity to cash in on their gently loved, but no longer worn designer fashions, Rodeo Drive Resale offers direct cash buy-outs and pays up to 70% of the final selling price for handbags, shoes, jewelry, accessories and watches on consignment.
Raya says the St. John Knits special event will continue as long as the items are available, which may not be for long considering the huge markdowns available on brand new pieces. For shoppers looking to expand their fall wardrobe a little early, the event includes sweaters, coats, and jackets, which are also being offered at a minimum of 50% off.
Rodeo Drive Resale (shopRDR.com) has built a reputation of providing amazing deals on handbags, clothing and accessories from the top designers of upscale fashion. The company offers a 100% guarantee of authenticity on each item sold, and works daily with a network of clients looking to buy, sell, or for consignment of their luxury goods. ShopRDR.com loves high-end fashion, and believes finding a high quality, classic piece should be an easy, enjoyable -- and most importantly -- hassle-free shopping experience. For the finest in Louis Vuitton, Chanel, Prada, Gucci, St. John Knits, Christian Louboutin, Tiffany & Co. and more, visit RDR online at http://www.shopRDR.com or call 1-888-697-3725.
Also find shopRDR at:
Facebook: facebook.com/shopRDR
Twitter: twitter.com/shopRDR
YouTube: youtube.com/ shopRDR
Pinterest: pinterest.com/shopRDR
Rodeo Drive Resale (shopRDR.com)
1-888-697-3725
service(at)shopRDR(dot)com