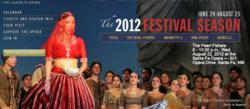 "The Pearl Fishers shimmers...a dream cast...Cabell sings like an angel!" — John Stege, Santa Fe Reporter
(PRWEB) August 17, 2012
Before there was Carmen, there was The Pearl Fishers— the score that established the 24-year-old Bizet as a genius. The Pearl Fishers shimmers with the beauty of its exotic setting, and includes one of the most cherished duets in the entire operatic literature, sung by best friends Nadir (tenor Eric Cutler) and Zurga (baritone Christopher Magiera) who vie for the love of priestess Leila (soprano Nicole Cabell). The Pearl Fishers delivers the same creative team that designed and directed the highly acclaimed 2010 production of Madame Butterfly. This opera and then entire Santa Fe Opera season line-up are featured on the SantaFe.com event calendar.
Synopsis:
Composed by Georges Bizet
Sung in French with English and Spanish Opera Titles
Act I
On the Ceylon shore that provides their livelihood and the rhythm of their lives, the pearl fishers meet and choose Zurga as their king. Nadir, once Zurga's best friend, suddenly appears after a year away in the forest. Zurga persuades him to resettle in their village, returning to his former life and their close friendship. They recall their shared past, when they fell in love with the same woman but renounced her to remain loyal to each other. Renewing their former closeness, they vow never again to let their love for a woman threaten it ("Au fond du temple saint").
News arrives of a boat's landing nearby. It bears a virgin chosen as a priestess to help protect the fishermen from storms and the forces of evil. Veiled and escorted by the high priest Nourabad, she arrives for instruction in her prayerful duties and is warned of the penalty for disobedience: death. She recognizes Nadir, who in turn is struck by her resemblance to Leïla, the woman he and Zurga forswore. As she ascends a promontory to begin her sea vigil, a gust momentarily reveals her face. Now the impassioned Nadir sees she can only be Leïla, and he is powerless to keep his vow to his friend. As she prays to the goddess Siva, she hears Nadir confess that he has followed her to the island and still dreams of her ("Je crois entendre" encore), and her hymn becomes a passionate song of love.
Act II
At their ancient temple, Nourabad reminds Leïla to remain faithful to her priestly duties. Leïla responds by telling how she protected a fugitive, refusing at knifepoint to reveal him to his pursuers; she continues to wear the pearl necklace he gave her as a reward. But after Nourabad leaves, she thinks of Nadir and cannot sleep. When he enters she desperately warns him away, saying they will be killed if found together, but soon they can only surrender to their passion. Nadir leaves, promising to return for her.
Angry villagers discover the fleeing Nadir and demand his death along with that of the veiled, unrecognized Leïla. But Zurga reminds them that only their king can determine the lovers' fate. He orders that their lives be spared, surreptitiously urging them to escape the now-hostile village. His mercy turns to rage as Nourabad removes Leïla's veil, revealing Zurga's betrayal. He sentences the lovers to death as they appeal to the god Brahma for protection.
Act III
Reflecting on his friendship with Nadir and his own love for Leïla, Zurga regrets his death-sentence and struggles toward a nobler path. Leïla approaches him and attempts to protect Nadir, claiming she followed him to the island. Her devotion arouses Zurga's jealousy, but when Nourabad arrives to remove Leïla, Zurga notices her cherished pearl necklace; as she attempts to entrust it to a villager for her mother's sake, Zurga seizes it.
With emotional chants and dances, the villagers prepare Nadir and Leïla's funeral pyre for their execution at sunrise. Nadir despondently prays that he might somehow save Leïla. She enters, and together they prepare for death. Then, as a glow becomes visible in the distant sky, Zurga warns his subjects that their village is on fire. Blood-lust turns to confusion as villagers run to save their homes.
Alone with Nadir and Leïla, Zurga explains that he set the fire to save them; he had recognized the necklace as the one he gave Leïla after she saved his life, and now he sees she belongs with Nadir. They escape with his blessing, singing of their happiness.
"The Pearl Fishers shimmers...a dream cast...Cabell sings like an angel!" — John Stege, Santa Fe Reporter
Artists
Leila - Nicole Cabell
Nadir - Eric Cutler
Zurga - Christopher Magiera
Nourabad - Wayne Tigges
Conductor - Emmanuel Villaume
Director - Lee Blakeley
Scenic Designer - Jean-Marc Puissant
Costume Designer - Brigitte Reiffenstuel
Lighting Designer - Rick Fisher
Details: The Santa Fe Opera Website
Ticket Info: Purchase Tickets Online or by phone at 505-986-5900 Interested Opera fans are encouraged to check out the website for ticket information and seating.
Contact Information:
Monday through Saturday (In-Season Hours)
505-986-5900 or 800-280-4654
9 AM to 5 PM, Mountain Time
boxoffice at santafeopera dot org
groupsales at santafeopera dot org
About SantaFe.com
SantaFe.com provides locals and visitors to Santa Fe alike the most current interactive platform for events, music, arts, business, dining and lifestyle. SantaFe.com is a division of Hutton Broadcasting, located at 2502 C. Camino Entrada, Santa Fe, NM 87507
Contact Information:
Scott Hutton
SantaFe.com / Hutton Broadcasting
http://www.santafe.com
(505) 471-1067 (Media inquiries only, please)