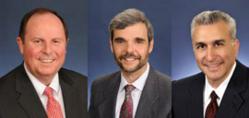 Washington D.C. (PRWEB) August 20, 2012
Murchison & Cumming attorneys Dan L. Longo, Steven C. Spronz and Tim M. Agajanian are slated to speak at the Fall 2012 USLAW Network Client Conference in Washington D.C. The three-day conference begins on October 4, 2012.
Serving as the event's Professional Liability Track Vice Chair, Mr. Longo will discuss "Healthcare Reform after Supreme Court Review/Where Do We Go From Here?" Mr. Spronz, Business and Advisory Services Track Vice Chair, will speak on the topic of "International Licensing, Distribution and Outsourcing." Mr. Agajanian will present on the "Effective Use of Provisional Remedies in Business Litigation."
Mr. Longo is Partner-in-Charge of Murchison & Cumming's Orange County office and serves as a Co-Chair of the Professional Liability and Health Law practice groups. He focuses his practice in the areas of medical malpractice, legal malpractice, insurance agent/broker E&O and directors and officers liability in a variety of litigation matters. Co-Chair of the firm's Business & Real Estate Transactions practice group, Mr. Spronz focuses on matters involving corporate and real estate transactional and financing matters. Mr. Agajanian is a Co-Chair of the Business Litigation practice group, focusing his practice on matters involving business law and commercial litigation, general liability and casualty litigation, and business transactions.
About the USLAW NETWORK
USLAW NETWORK is a national organization composed of 64 independent, defense-based law firms with over 4,000 attorneys covering the United States and Latin America. Among the firms, there are over 150 offices in 47 US states. An alliance with the Trans-European Law Firm Alliance (TELFA) gives them access to 25 European law firms each representing its own jurisdiction and a similar relationship with ALN Limited enables USLAW to partner with 10 firms in East and Central Africa.