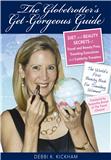 Oscillo helps to reduce the duration and severity of flu symptoms and – get this – is an industry secret found on many Hollywood movie sets. That's probably why movie stars always look so good!
Westwood, MA (PRWEB) August 19, 2012
Jen is engaged! Finally, after being divorced from husband Brad Pitt, Jennifer Aniston has found true love with actor and screenwriter Justin Theroux, who proposed to her last week, on June 10th, 2012. The wedding planning is in the works, and probably, so is the honeymoon. Debbi Kickham, a professional travel journalist and author of the bestselling travel book, The Globetrotter's Get-Gorgeous Guide – the world's first beauty book for traveling women – offers these off-the-radar travel tips to make Jennifer's – and every bride's honeymoon -- a breeze! (http://www.GorgeousGlobetrotter.com)
You should always travel with aspirin, Pepto-Bismol, multivitamins and your yoga mat – but here below are some unusual travel items, whose presence in your TravelPro suitcase will make any bon voyage even better.
1). Oscillococcinum. In France, where Oscillo has been around for more than 65 years, it is the best-selling over-the-counter product in the cold/flu/cough category and a top-selling brand in pharmacies. It won't interact with other medications and is not contra-indicated with pre-existing conditions. Take it the moment you feel run-down after traveling, with any headache, body aches, chills or fever. Oscillo helps to reduce the duration and severity of flu symptoms and – get this – is an industry secret found on many Hollywood movie sets. That's probably why movie stars always look so good!http://www.boironusa.com
2). Satin pillowcase. Broadcaster Joan Lunden has been doing this for years. When you get to your hotel or cruise ship stateroom, put a satin pillowcase over the bed pillow. Why? Because satin is softer on your skin and hair than cotton, and doesn't cause creases and wrinkles. You'll feel like you're sleeping at the Four Seasons in Bora Bora – even if you're at Motel 6 in Newark.
3). Ear plugs/eyeshades/blanket. If you can't afford a private jet -- this is the Trifecta for your flight to your destination. The ear plugs will drown out any noise (as will Bose noise-reducing headphones). The eyeshades will let you sleep during daylight. And a blanket will keep you warm when you're at 35,000 feet.
4). Herban Essentials. These are moist towelettes you'll find at Whole Foods, and they smell divine, because they're fragranced with real essential oils. They will uplift your spirits and send your olfactory senses into overdrive. Pack 'em in your purse, suitcase, backpack, briefcase, car, gym bag and wallet. They come in lemon, orange, lavender, peppermint and eucalyptus. By all means use then on the plane to disinfect your surroundings (including the tray table). But Herban Essentials have tons of uses. Use the lavender to tuck into your pillow at night, to induce sleep, or to relieve bug bites and remove makeup. Use the lemon as an aftershave on your legs, use it to clean your computer keyboard, or as a pick-me-up after exercising. Peppermint can relieve motion sickness and combat mental fatigue. http://www.herbanessentials.com.
5). Filled RX for antibiotics. Talk to your primary care physician before you travel, and get a filled prescription for antibiotics. It can save your life on your trip, when the last thing you want to do is search for – and pay through the nose for -- a local doctor. Just exercise caution if and when you use antibiotics, and only use them for a severe infection.
6). Arnicare Gel. After being stuck in an uncomfortable seat on a plane, most people are achy and stiff and filled with muscle pain. Arnicare, made from the Latin daisy, is a safe, natural and reliable choice that is unscented and non-greasy, to relieve muscle pain and stiffness. (It's also a "secret weapon" to minimize bruising and swelling after facial plastic surgery!) http://www.arnicare.com.
7). Superb lowfat snacks. Jen and all honeymooning brides should bring special low-cal snacks so they don't fall off the diet wagon, and maintain their gorgeous model-like figures. These include: Sunsweet cherry-essence dried prunes, which at 20 calories per plum, are filled with antioxidants and put a tiger in your tank – especially before you go to the gym and need some fuel. For the breakfast of champions – pack puffed rice, raisins, and powdered milk. Just store it all into a Ziploc bag. Simply add water, in a bowl from room service, and you have breakfast or a great snack. A cup of puffed rice is 70 calories; one-third cup of raisins is 130 calories, and half a cup of skim milk is 40 calories. Voila! For 240 calories, you are a dieting dynamo. I also always travel with Blue Diamond smokehouse almonds – 14 nuts have just 85 calories and a paltry 8 grams of fat – they are filled with protein, and you won't need to pray anymore to St. Cellulita, the patron saint of thin thighs.
8). Emergen-C. These potent packets of Vitamin C pack a punch and are also loved by celebrities. For example, try a Super Energy Booster with 1,000 mg. of Vitamin C in an orange fizzy drink – it will come in handy after a flight when you feel depleted. Most packets have about 30 calories but there are also Lite versions that only have 5 calories per serving. http://www.alacercorp.com
9). Anything from Venus Fashions. Here is fashion's best-kept secret, and some of the most beautiful resort wear – Venus Fashions. Forget shopping at T.J. Maxx, H&M or Zara; Venus makes make an incredible array of extremely affordable, made-in-America clothing that also offers the best customer service in the business. You'll find everything from beautiful dresses, to dressy short shorts – all the rage now – to fantastic resort and cruise wear and sexy swimsuits in every style, size and color under the sun. (Venus invented the mix-and-match bathing suit). Venus will make every woman look like Aphrodite – or just an A-list celebrity. http://www.venus.com.
10). Anything from 3floz.com. Let's face it – TSA at the airport won't let you board with any liquids or gels that are larger than 3 fluid ounces. The website http://www.3floz.com offers a wealth of wonderful cosmetics that you can take on board with you – such as toners to refresh your face, and moisturizers to counteract the dry stale air. Now everyone can look like a celebrity VIP!
Last but not least, when all is said and done, here is just one more thing that you and Jennifer should always take with you in your travels, to absolutely make every trip memorable: A sense of humor. It doesn't cost a thing, doesn't weigh you down, and easily goes through customs!
Debbi K. Kickham is a professional travel journalist who is a veteran member of the Society of American Travel Writers, http://www.satw.org. She is also a marketing/communications expert who co-authored the bestselling business book Off The Wall Marketing Ideas: Jumpstart Your Sales Without Busting Your Budget, http://www.MarketingAuthor.com. She lives in Westwood, MA, and travels the world lecturing about her books.